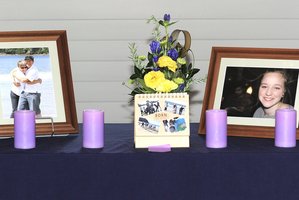 Four of the Bethlehem College students involved in a fatal minibus crash in Kenya have been reunited with family and friends, while a further five teens and one teacher are expected home today.
A Tauranga coach carrying the four students - one who was on the minibus which crashed in Kenya last week and three who were in a car travelling in convoy - travelled to Tauranga from Auckland Airport yesterday afternoon.
The students, who flew home via Dubai and Melbourne, were joined by family and school representatives, including principal Eoin Crosbie.
Meanwhile, the bodies of Brian and Grace Johnston and 19-year-old Caitlin Dickson were driven by hearse from Auckland to the funeral chapel in Pyes Pa.
The Johnstons and Caitlin died when the minibus they were in rolled into a ditch on a rain-swept road in western Kenya. They were part of a 19-strong group from the college that was building another classroom block at the Ark Quest Education Centre in Mahanga.
Legacy Funerals operations manager Don Hoult said they were in the care of Legacy Funerals at Tauranga Park.
Mr Crosbie said the students had a "very private" reunion with family at the airport before returning home.
"It was a very long flight and they're very tired but they're in good spirits. They had lots of interesting stories to tell on the way home and we didn't press them about the accident," he said.
"Their families were absolutely delighted to have them home ... and the students also had a great sense of relief, but their joy was tempered with sorrow for the loss of the other three.
"Getting back is good. This is one step closer for them in their recovery. There's still a lot of sadness but this is one step forward."
Pastor Craig Vernall of the Bethlehem Baptist Church said preparations were under way for Caitlin's funeral at the Bethlehem College gym on Thursday at 1.30pm.
Prior to the service, Caitlin's friends will be invited to write their farewells on the casket and the service will include a song performed by Caitlin's close friend and talented musician Lydia Hollister-Jones.
Pastor Vernall said the message would help friends make their farewells.
"The best thing we can do is to help facilitate the grief process."
The funeral for Brian and Grace Johnston takes place on Saturday at 10.30am at the college gym.
Mr Crosbie said the second group were on their way back from Kenya and were expected to arrive home today.
Despite being injured in the crash, this group did not need any special medical provisions for their journey home, he said.
Planning for special medical transport provisions was under way for the third group who had suffered more serious injuries in the crash.
Aneka Jones, who suffered a dislocated hip and fractured pelvis, remains in hospital in Nairobi.
She has been joined in Kenya by her aunt and mother.
Mr Crosbie said Kerri Tilby-Price, who took a leading role in handling the crisis when team leader Phil Russell was injured in the accident, decided to stay in Dubai at a friend's house after exhaustion led to her feeling unwell.
She was not admitted to hospital and was now much better after getting a good night's sleep, Mr Crosbie said.
"The embassy staff and House of Travel personnel have been wonderful getting things organised to evacuate the groups. It is an absolute team effort," he said.
Mr Russell was now out of hospital and helping with the arrangements.
Meanwhile, a grove of trees could be planted at Bethlehem College as a memorial to the people who perished in the bus crash.
The offer of the trees has been made to the college by Tauranga Mayor Stuart Crosby on behalf of the city's residents.
The mayor would also be talking informally to councillors about making a contribution to the three bank accounts set up by Bethlehem College in the wake of the deaths.
For more articles from this region, go to Rotorua Daily Post