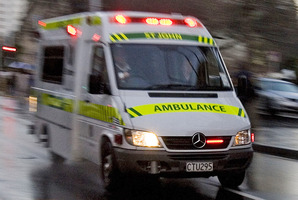 A woman who fell two storeys from a central Wellington building may have been trying to climb around a pipe as she tried to get inside.
The 25-year-old was taken to hospital in a critical condition after the accident on Bute St, in Te Aro, about 6.30am yesterday.
Inspector Terry van Dillen said the woman had tried unsuccessfully to get into the building through the entrance, so she climbed two storeys up the fire escape instead.
"She knew of another way and she's tried to climb to that access point. At some point climbing around a pipe, she's slipped and fallen," he said.
"We're pretty happy at this stage there's nothing suspicious about it, of course - it's just an unfortunate accident."
Police had not yet spoken with the woman, who was in a critical condition in Wellington Hospital's intensive care unit this afternoon, having undergone surgery yesterday.
"But at the end of the day we're pretty comfortable that there's nobody else involved and it certainly wasn't a suicide attempt. It's just a matter of trying to establish the facts."
Police were still talking to witnesses and alcohol or drugs were not believed to be involved at this stage.
Mr van Dillen warned people to stick behind barriers when climbing stairs of fire escapes.
"The handrails are in place for certain reasons. You're not supposed to be climbing somewhere where you think it's dangerous," he said.
"It's a pretty basic common sense message, really - don't go where you're no supposed to go."
- APNZ