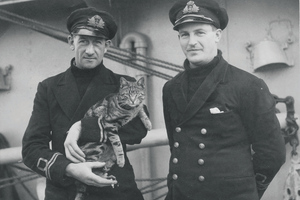 A one-day event celebrating the contribution pets make to their owners lives' is to be held at the Torpedo Bay Navy Museum on Auckland's North Shore.
And animals themselves will have the chance to enjoy the festivities, with pets of any kind welcome to come along.
The event is a tie-in to the museum's Mates & Mascots exhibition, which explores the friendships that have existed between sailors and their animals throughout the ages.
The exhibition has generated a huge amount of interest, according to project manager Anna Hodson said.
"It's been absolutely fabulous. It's been the biggest exhibition undertaking that we've done. It's just been really well received."
The Pet Day - which will be held on February 2 - will involve demonstrations with animal behaviourists, the SPCA education team, and Air Force dogs.
It will also feature craft activities, costume competitions, and a mobile SPCA adoption centre.
The decision to allow animals to come along for the day was an easy one, Hodson said.
"All our team here has animals ourselves. We're all a bit animal-crazy."
Though all animals must be socialised and properly restrained, there are no other limitations, she said.
"We're expecting mainly dogs, but we wouldn't be surprised if people brought other animals."
The event is gold coin entry, all of which will go towards the SPCA.
The Mates & Mascots exhibition, although free, already fundraises for the SPCA by selling guide books in exchange for a donation.
Mates & Mascots, which has been running since December 15, ends on February 17.