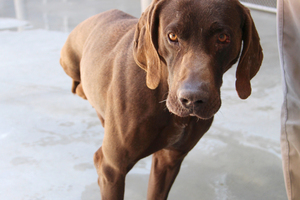 Oscar, the three-legged dog who became a celebrity when his shoplifting antics were caught on camera, will be reunited with his owner after more than a week locked in the pound.
The German shorthaired pointer stole a roll of dog food from the chiller of Invercargill's Alray Dairy in front of startled shoppers.
He then returned to the dairy twice more in attempts to grab more food but on his third visit last Wednesday, he was caught by staff and has been in the pound ever since.
Council staff have finally made contact with Oscar's owner who was travelling back from a trip to Stewart Island and the pair were expected to be reunited tomorrow, said manager of environmental health John Youngson.
While he didn't like being in the pound, Oscar remained in good spirits he said.
"He's a good dog. he's a character."
Mr Youngson said Oscar had been staying with a relative whose "fencing wasn't the best", when the robbery occurred.
Oscar's wily ways had been the talk of the town, dairy owner Esmay Hay said.
His escapades started earlier this month when he evaded watchful staff and entered the dairy while there were several shoppers inside.
He headed straight to the chiller at the back of the shop, selected a dog roll and took off with it.
His brazen theft was caught on the shop's security camera.
- APNZ