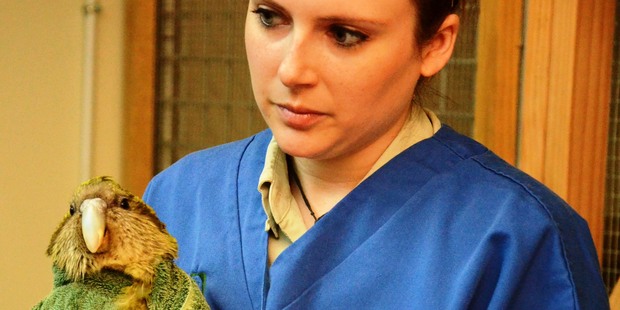 A kakapo on the mend after a case of "crusty bum" will hopefully breed again to help boost the population of the critically endangered species.
After being treated for three months at Auckland Zoo for exudative cloacitis - dubbed "crusty bum" by zoo staff, 10-year-old female Rakiura was flown south this morning, where she will join 44 other kakapo on Anchor Island, Dusky Sound, in southwest Fiordland.
She is expected to be settled in a patch of forest on the island by nightfall.
The bird was one of eight transferred from Southland to Little Barrier in April last year, to establish a breeding colony on the island.
Auckland Zoo senior vet Dr Richard Jakob-Hoff said each of the birds were given health checks on the way, which was when it was discovered Rakiura had a mild case of exudative cloacitis - or "crusty bum".
"In birds the urine and the faeces are both discharged from the same place - they don't have an anus like we do, they have a cloaca, that is sort of a collecting chamber before they shed their droppings.
And so [cloacitis] is an inflammation of that chamber," Dr Jakob-Hoff said.
"The reason it is called crusty bum is because the inflammation causes scabbing, quite severe scabbing. Obviously it makes them feel very ill."
The bird was taken to Auckland Zoo where she recovered "fairly quickly", before she was taken to Little Barrier Island to join the others.
However in October DOC rangers monitoring her radio transmitter noted she had not moved for days. Upon investigating they discovered the parrot had developed a much more severe case of the disease and had not been feeding as a result.
Dr Richard Jakob-Hoff said the bird was "extremely" sick when it was taken from the island back to the zoo.
"If she hadn't been found when she was found, I think in a day or possibly two days she would have been dead, because she had lost so much weight. Her normal weight is around 1.6kg and she had lost half a kilogram, so nearly a third of her body weight.
"It has taken us quite a while to bring her back to good health, because of her weight loss and the fact that she had a nasty infection in her rear end."
Dr Richard Jakob-Hoff said Rakiura is being relocated to Anchor Island as rangers will be able to check up on Rakiura every two to three days, which wouldn't be possible on Little Barrier Island.
"The plan had been to leave her on Little Barrier, but Little Barrier is such a rugged terrain and she prefers the absolute highest points on that island. To actually retrieve her when she got sick, people had to abseil down a cliff to collect her."
To ensure the bird was healthy, Rakiura was not given any medication or special care for two weeks. Dr Jakob-Hoff said Rakiura has no symptoms and she has regained all her weight.
He said the bird was looking "looking very healthy, alert" before the flight this morning.
"I'm very happy with her progress given she was so sick when she came in."
Unfortunately little is known about the disease.
"Despite extensive diagnostics the cause of the cloacitis remains a mystery. We're still waiting on the results of DNA tests for viral and bacterial organisms present, and will compare these with those of healthy kakapo to see if we can identify the causal organisms for what we think is a bacterial infection."
Dr Richard Jakob-Hoff believed the disease may be passed between birds, but said there was only circumstantial evidence this is the case.
"That is the reason we are sending her to Anchor Island initially," he said. "What she calls home is Codfish Island, just off Stewart Island, and she will eventually go back there. But we want to put her on Anchor Island until after the breeding season ... we don't want her mating at this time until we are sure she is absolutely clear of it in case it is contagious and one of the males might get infected.
"At the moment there's no breeding happening on Anchor Island but there is breeding happening, or at least breeding behaviour, on Codfish Island."
Dr Jakob-Hoff said previous females who have suffered cloacitis have gone on breed again, so there are high hopes Rakiura has many years of breeding left in her.
"She is actually a very important breeding female, she's had a number of chicks before and she's still relatively young so she could have many years left of breeding left in her.
"Obviously with such a critically endangered species every breeding bird is really important. So we're delighted that she's got better."
Rakiura is one of just 125 kakapo in the world, and Kakapo Recovery Programme manager, Deidre Vercoe Scott, said rangers based on Anchor Island will be keeping a close eye on her health.
"Given Rakiura has had cloacitis before, it's possible she may have a reoccurrence so she'll be monitored closely. In the meantime we will continue to work closely with the Auckland Zoo in a bid to better understand this condition."
KAKAPO FACTS
* The kakapo or 'night parrot' is flightless, and the world's heaviest parrot. Unique to New Zealand, it was pushed toward extinction by human colonisation and the introduction of rats, stoats and possums.
* By 1995, only 50 kakapo were known to exist. Today there are 125 kakapo being managed by the Department of Conservation on Whenua Hou (Codfish Island) near Stewart Island, on Anchor Island in Fiordland, and on Hauturu (Little Barrier) Island in the Hauraki Gulf Marine Park.
* Seven kakapo are living on Hauturu Island, including Rakiura's mother Flossie. These kakapo are all fitted with tracking devices so rangers can monitor them. The move to Hauturu is a trial to determine whether kakapo can breed on their own without supplementary feeding now that rats are no longer present. (Rats were eradicated from Hauturu in 2004).
- nzherald.co.nz