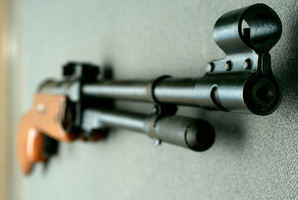 An academic says the loophole that lets people buy "lethal" air rifles should be closed following the death of a south Auckland teenager.
Prof Kevin Clements of the University of Otago Centre for Peace and Conflict Studies, said air rifles should be sold only to gun licence-holders.
Anyone 18 years of age or older can own and use an airgun and anyone under the age of 18 can use an airgun if supervised by a firearms licence holder, or someone aged 18 or older.
"They don't require the same type of registration and background checks as an ordinary rifle but they have the same lethality and they need to be treated like any other weapon," Professor Clements said.
Air rifles were considered suitable for children and needed to be critiqued, he said.
He called for tighter controls after the death of undercover policeman Don Wilkinson, who was shot with a .22 calibre air rifle in 2008.
"There is really a need for a tightening up of this loophole or people are going to be killed with these weapons."
The public considered the death of the policeman an anomaly, but when Shaun Townsley, 18, died after being shot by a .177-calibre air rifle in south Auckland on Saturday, it illustrated how lethal the weapons were, Professor Clements said.
Sports Industry Association spokesman Chris Ziesler rejected Professor Clements' comments.
"When I was 14-years-old, I got my first air rifle. My older brother had one and instructed me on its use and we grew up shooting our air rifles and tens of thousands of New Zealanders, of young Kiwis, have owned and used air rifles with no incident."
The death of the teenager had allegedly involved alcohol so the law should not be changed because of a single "reckless" incident, Mr Ziesler said.
"That would be an overreaction ... I can't quite follow the professor's idea that having a licence to buy an airgun would cure a problem that really doesn't exist.
"One fatality is no excuse to change the law" especially when alcohol was allegedly involved.
Changing the law would be a "huge overreaction", Mr Ziesler said.
Legislation had been passed so more powerful pneumatic air rifles, like the .22 calibre rifle used to shoot the undercover policeman, could be owned and used only by a gun licence-holder, he said.