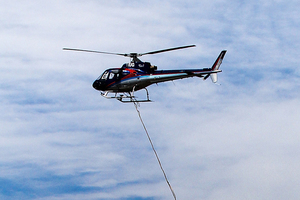 Two missing climbers had to be rescued from a crevasse this morning after spending two nights trapped high on Mt Tasman.
A 23-year-old Australian man and a 25-year-old man from Britain were reported missing to the Department of Conservation after they failed to return from their climb on Saturday.
Severe weather conditions forced the duo to spend two nights high on the mountain.
The Aoraki-Mt Cook Rescue Team was sent out at first light today and the men were located.
Thanks to the inaccessibility of the area, the team had to use a long line rescue technique to pluck the pair from the mountain by helicopter.
Both climbers were airlifted to Mt Cook village this morning for medical assessment.
They were reported to be wet and cold, but uninjured.
- nzherald.co.nz