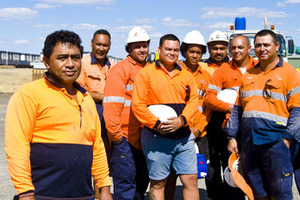 The wife of a man trapped under a ute after a crash in Queensland says her husband would not have survived if a group of New Zealand men had not stopped to help.
Darline Williams says husband John almost died on the side of the Warrego Highway near Roma, west of Brisbane, before the convoy of Kiwi builders came to the rescue.
Yesterday, Mr Williams, 60, remained in a critical but stable condition in Brisbane's Princess Alexandra Hospital with broken ribs, bleeding on the brain, a punctured lung and severe burns to his shoulder, neck and face.
The nine Kiwis - Robert Leilua, Tee, Blake and Mafi Kefu, Amine Kay, Anaru Manu, Matt Hapeta, Ralph Williams and Wayne Faapito, most from Auckland - won the praise of police last week for lifting the ute off Mr Williams after it crashed off the highway.
Ms Williams said: "If they had not shown up when they did, my husband would not have lived.
"As soon as I saw them coming down the hill to the ute, I thought, 'Oh my God, I know these guys can lift this.' I just kept saying, 'My husband's under the ute, please, please get him out.'
"They deserve an award for it because they were the only people who stopped and ... if they hadn't stopped and done what they did, John would not have made it."
Mr Williams, the couple's son Toby and their dog were in the ute as the family moved their furniture from the central Queensland gemfields to Oakey, closer to Brisbane.
Ms Williams, who was driving with her niece in a vehicle behind the ute, said the leading vehicle lurched in one direction and it appeared as though her husband had overcorrected the steering. The ute rolled "about six times", tossing Mr Williams from the cabin and coming to a stop on its wheels in a ditch.
"It had pinned John underneath it," Ms Williams said.
"We had no idea [where he was].
"I ... ran back to the ute to make sure John was okay and he wasn't there ... I was just, 'Oh my God, oh my God, where is he?' I was calling for him and ... We just couldn't find them. Then I called for him again and we heard this almighty groan.
"I looked back and [realised] he was under the ute."
Some of the Kiwi builders, who were heading to Roma for work, directed traffic by shining light from their mobile phones off high-visibility clothing, while the others carefully lifted the ute and pulled Mr Williams free. He was flown to hospital.
Last week, Ms Williams took a newspaper clipping about the rescue into the intensive care unit where Mr Williams had just woken from a coma.
"He gave me the thumbs-up," she said. "Those boys, I tell you, they were amazing, absolutely amazing. They lifted that ute, mate. They lifted that ute and they knew they had to get him out."
She said she never got the chance to properly thank them all. "No words can say thank-you enough. Nothing can."
- APNZ