Maggie Barry, the former radio broadcaster and TV gardening show host, has been North Shore's National Party MP for a year. In the first of a series of interviews with backbenchers, she talks frankly to political editor Audrey Young about her first year in politics and her decision to stand up to "bullying" in Parliament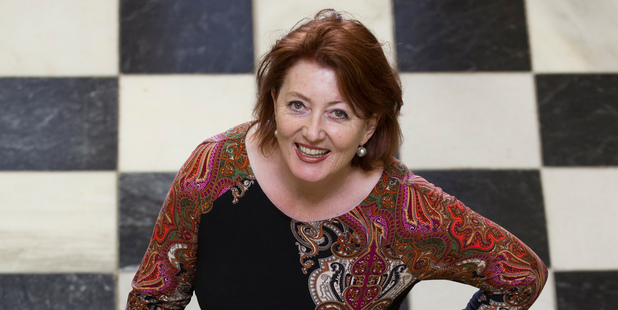 What's been the most rewarding part of the past year?
My big highlight was Taharoto, the mental health facility. From probably about my first month in the job I got complaints from my constituents about this dreadful acute psychiatric facility in the North Shore Hospital grounds. It's a converted maternity hospital and is absolutely vile, deeply awful and I went and had a look and I was shocked by what I saw. I've been lobbying and talking to (Health Minister) Tony Ryall and Lester Levy at Waitemata DHB and when Tony was out of the country he let me announce that we are putting in $25 million and we are completely rebuilding the facility.
One couple told me they took their daughter there who was suicidal, one Sunday night. They got her out of the car, took her in there, took a look around and just thought "no" and put her back in the car and drove her home again.
Have you had any low points?
Potentially there was a low point with the Ngati Whatua o Orakei Treaty settlement. At Narrow Neck there's a beach which is beloved of the "republic" - the local Devonport people - but it was part of the Navy so was also part of the Treaty settlement. It became a huge issue. I got it in the neck from everybody. I invited (Treaty Negotiations Minister) Chris Finlayson up to speak to them because there was a lot of misinformation swirling around locally. While it was unpopular locally, I think it was accepted that this was a fair settlement and concessions were made.
Various people advised me to keep well clear of it, including my predecessor. But in the end I decided I had to try to make some difference, to try and help the outcome.
What's the most frustrating thing about working in Parliament?
I guess some of the posturing. The obfuscation that goes on, the crap that gets talked in the House, the faux outrage has been so extreme it's almost amusing, and the fake gravitas as well is one of my other favourites.
Both Labour and the Greens had talked to me at different times about joining their ranks over the 30 years I had been (in the media). There was a certain amount of "you're toast, we're going to get you" in the corridor. I sustained quite a few insults in the first couple of months - "get back to the garden where you belong". A couple of grumpy old trouts came out with that stuff.
My son is 14 and he said to me a while ago, "What do you do about bullying?" I said, "You've got to face them down". And that's what I've decided to do with bullies in Parliament, the bully boys in the Opposition and the more passive aggressives in the Greens and New Zealand First.
When it comes to the dark arts of politics, one piece of advice I received and that I took was that if someone hits you, you hit them back twice as hard. I've done that in my first year. I think people have got the message that I'm not going to be bullied and pushed around so hopefully (in 2013) I can relax a bit from that stance.
You're very combative.
I think if you don't do it you're dog tucker, frankly. I've looked at others who are heckled, nasty things - "bottle-blonde", "big slob", "fat girl" - really low-grade, low-rent. Never going to make it into Hansard, not going to be heard from the gallery but it's there and undermines people's confidence. It was a bold call to answer them back.
Are you talking about Jacinda Ardern (whom Barry pointed out, in the Paid Parental Leave Bill debate, didn't have children)?
Oh, "precious petal" is a bit different. (When Labour MPs called her comments outrageous, Barry told Ardern; "Don't be precious, Petal".) Frankly, I was sick of people shouting across the House at me, "You've dumped your son at boarding school", "All Nats are bad mothers" and Jacinda did her "National Party women love coal more than they love kids". I thought: "Actually, how many kids do you have? What do you understand about the reality of juggling it all while you are in the House?" So then Trevor (Mallard) does his mad tweet (demanding an apology) with the faux outrage and gravitas, which is all nonsense. If I thought Jacinda had been in the foetal position, weeping, I would have acknowledged that. But when she says it's no big deal and Trevor wants me to apologise, guess what the outcome is likely to be?
Which MP outside your party impresses you?
That's a hard one. Can I get back to you on that? That's a really hard one.
What's your position on the same-sex marriage bill?
I voted in favour of it because I believe it is an equality issue. I was in the media when the homosexual law reform bill went through. I remember one night interviewing (the Labour sponsor) Fran Wilde and (National opponent) Norm Jones, the mouth from the south, the Invercargill MP, and he hit her with his walking stick. It was beyond angry. People were extraordinarily entrenched. To me it was like the Springbok tour (of 1981). It was one of those things that divided families, divided communities, divided the nation.
I was in favour of that being passed, I was in favour of civil unions and while I understand there are incredibly strong feelings from people who believe marriage is sacred and only for a man and woman, I personally think that men and men and women and women should be allowed to marry if that's what they want. Frankly, I don't quite understand why they want to do it. I've never got married in my life.
Name one of your heroes outside politics.
Ed Hillary. I did the last interview of him for the Listener. He was somebody I had always admired as a kid. To do the final interview with him was an honour. I did six hours with him over two days for oral archives for Radio New Zealand and it ultimately ended up a 14-pager for the Listener, published posthumously. As it turned out, his health was such that even Mark Sainsbury couldn't get an interview with him after that because of the nature of his decline. He'd been on the Garden Show many times talking about meconopsis, the blue poppies. Bless him, he hardly knew a rhododendron from a poppy but he knew what he liked.
He was the quintessential Kiwi - very self-effacing, which is why I did the thing for the oral archives because there was very little (on record) about his trip up the Ganges. (And) there was very little on record about that final ascent. "What happened Ed, when you got to that point (now) known as the Hillary Step and Sherpa Tensing turned back as he had done four times before? What made you go on?" He spelt it all out and he spelt out why he didn't come out with it at the time. It's that old-fashioned sense of honour and we will not see his like again.
What books are you reading or are planning to read over summer?
I've got the Lloyd Jones novel Hand Me Down World, which I've picked up and put down too many times. I have to start at the beginning again. I've had so many papers, I haven't had a chance to read anything. (I've also got) The Finkler Question by Howard Jacobson, which won the Booker prize in 2010. When I was chair of the board of the Book Council, I never read anything but New Zealand authors for five years, just because I wanted to catch up and I realised there were a lot I hadn't read. I had Jenny Pattrick on my board and Owen Marshall, who are two authors I admire particularly, so I made sure I read all their stuff, and I fell a bit behind in other ways.
What's one of the best shows or concerts you've been to in recent years?
I love Bob Dylan. I saw him at Vector in Auckland (in 2011) and Leonard Cohen. I'm really pleased his agent ripped him off the way he did, otherwise Leonard wouldn't have bothered to go back on the road. He was down to his last $200,000 or something, so the poor man had to. I thought his first concert was pretty much beyond compare and I thought "I'll quit now", but I didn't, and the second one wasn't as good. And Van Morrison, they're my three. Billie Holiday and Maria Callas are my two favourite female singers and I listen to a lot of opera.
How are you unwinding over summer?
We're walking the Milford Track. It's the fourth time for me. I've done all those big walks. I just love them. My partner and I were supposed to go to Nepal this year. He went without me. I gave him a very long leave pass and he headed off to a three-and-a-half week trek in Nepal. He does one every two years. I haven't been able to join him because of this political thing and not being able to get leave.
Was there a beach that was special to you during your childhood?
Paraparaumu. We had a beach house out there. I was raised in Wellington, so like a lot of people we'd go there on a Friday night and come back Sunday night and that was where I grew up. I had a bike and used to swim there all the time and got sunburned every year, which is why I've got so much skin cancer now, of course, but that's another story. I love that beach. I love Pt Chevalier beach but of my North Shore ones, probably Takapuna has to take the biscuit. The people of Milford won't like me saying that but it's gorgeous. Just a beautiful beach.