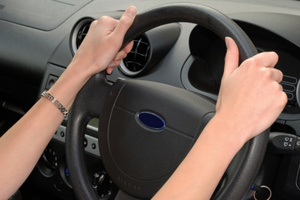 Parents are being urged to hide their car keys after two young sisters took their parents' cars and crashed into each other.
The 12-year-old and 14-year-old were both hospitalised with injuries from the collision, west of Hamilton on Monday.
Waikato road policing manager Inspector Marcus Lynam said officers were called by a local resident before the crash on Te Kowhai Rd.
"A member of the public had phoned 111 concerned about the driver of a blue Ford Falcon who had nearly hit her, and said the driver couldn't see over the steering wheel.
"Then, a short time later this vehicle collided head-on with a Nissan Bluebird coming out of a driveway.''
Both cars were extensively damaged and the 12-year-old, driving the Ford, suffered minor internal injuries while her sister in the Nissan suffered a fractured wrist.
"It appears the younger girl has taken the Ford car for a drive and when her older sister became concerned about where she was ... has jumped into the Nissan to go in search of her.
"The two cars have subsequently collided at the entrance to the driveway,'' Mr Lynam said.
"In this case we are very fortunate that no one was seriously injured but the poor member of the public who had already rung 111 concerned about the 12-year-old's driving was understandably distraught when she saw what happened.''
Mr Lynam asked parents to "re-evaluate their children's access to vehicles'' to prevent such incidents.
He said police would consult with Youth Aid and it was too early to say whether the girls would face charges.
The girls' parents could have a battle with insurance companies if they are not fully covered.
Insurance Brokers Association of New Zealand president Nick Cressey said companies might resist paying on a claim.
"Technically, both vehicles were stolen because they were taken without the parents' knowledge and consent.''
Mr Cressey said in some circumstances, if a car thief had been caught, some insurance companies would seek compensation for the cost of repairs.
If the parents had only third party insurance, they would not be covered at all, he said.