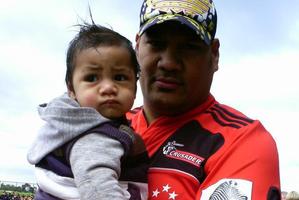 A "generous'' family man dived into a lake to save his floundering young daughter in a rescue that would cost him his own life.
Family of Kelekolio Latu from New Zealand and Tonga are making the solemn journey to Australia this week for the 33-year-old's funeral after he drowned in a lake near the family home at Cranbourne West in Melbourne's south on Sunday.
Mr Latu rescued his 11-year-old daughter, Theresa, before he drowned on what was intended to be a playful afternoon after church at Narre Warren Lake.
His wife, Manu Latu, told the Berwick Leader newspaper her husband would be remembered as a hero.
The pair had moved from New Zealand to Australia nearly four years ago "because he wanted to see if we could have a better life''.
It was the family's first visit to the lake as a treat after church.
"It was a very happy day for him.
"He wanted to go and take the kids and his nieces and nephews.''
Mr Latu's cousin Nukuofo Maka said she believed he "panicked'' seeing Theresa in the water, and just dived in.
The family had been at the lake for barely 25 minutes when the children got into trouble and Mr Latu went to their rescue.
Ms Maka said she believes her cousin struggled to swim because he was in shock.
Friends at the lake tried unsuccessfully to pull him out of the water after he had rescued his daughter, but eventually he disappeared under the water.
"It was so unexpected. Everyone saw him at church earlier that morning and then all of a sudden we were getting phone calls saying he was missing,'' Ms Maka said.
"Around 8.30, that's when the police came to Manu and said we've actually found the body. I guess she was devastated but happy that they actually had found his body.''
Ms Maka said her cousin was a family man.
He leaves behind his daughter, wife Manu and 1-year-old son Pita.
"He was really generous and he treated everyone the same,'' she said.
Pita is "a little spitting image of his father'' and Ms Latu has said she wants to change her son's name to Kelekolio as a tribute to her husband.
"[Pita] hasn't been able to sleep the last couple of days. His dad was always the one putting him to sleep,'' Ms Maka said.
Theresa faces her first year of high school a few weeks after her father's funeral.
"She's a pretty strong girl,'' Ms Maka said.
Friends and family have posted messages of support on Facebook.
"Your life is a blessing. Your memory is a treasure. We love you beyond words and miss you beyond measure! Rest in peace kelekolio latu you will be forever in our hearts,'' wrote Rina Leka Tupou.
Arrangements were being made for family and friends to travel from New Zealand for the funeral.
- APNZ