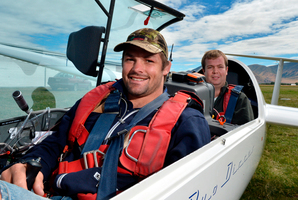 All Black captain Richie McCaw may be taking a six-month sabbatical from rugby, but that did not stop him pursuing his other great passion in Omarama yesterday.
McCaw and his cousin Alex McCaw were among 30 entries in the New Zealand gliding championships at the Omarama Airfield, and although the flanker said he was used to getting a buffeting and still coming out on top on the field, he was not expecting to lift any silverware at the end of this competition.
He said he had been gliding regularly since 2006, but the national championships were only his second competitive outing.
"Just like in any competition, you have got to get round - that's the first thing," McCaw said.
"The main thing is just to finish, but we will be going as fast as we can."
Pilots at the national championships will take in four glider classes on a 377km course between Omarama, Cromwell and Macauley.
Race director Ralph Henderson said the competitor with the fastest time would be the overall winner.
The McCaws, who were competing in the 15m glider class, had their one and only run at the course yesterday. Mr Henderson said they would have to wait until the last day of competition on January 12 to find out their final placings.

Already a qualified glider, aircraft and helicopter pilot, McCaw said he had been interested in gliding since he was a boy.

"My dad flew, and his brothers. The North Otago Gliding Club was on our farm in Kurow when I was growing up and I was always trying to hitch a ride.

"I'm pretty passionate about flying, and I have my own glider, which I own with my dad. It's good fun."

McCaw celebrated his 32nd birthday on New Year's Eve, after enjoying a family Christmas in Christchurch, and had a New Year jet-boating excursion in Wanaka.

With no rugby until July, he said he planned to take a two or three-month holiday away from New Zealand, "just to forget about rugby for a while".

Although he had not finalised arrangements, he said he was keen to visit the United States.