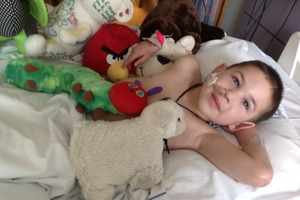 For the past five or six years Rotorua couple Kushla and James Crimp have been focused on trying to build up assets for their three children's futures.
Mrs Crimp says that focus has now changed after their youngest son, 3-year-old Elliott, was diagnosed with meningococcal C in September and is still in Auckland's Middlemore Hospital.
Elliott has had the toes on one foot and part of his other foot amputated. He has also lost parts of three fingers and doctors will soon decide whether to amputate all of one foot and possibly some of that leg. He is still to undergo skin grafts.
When The Daily Post caught up with the Crimp family just before Christmas they were back in Rotorua having a break while Mrs Crimp's mother was staying in hospital with Elliott.
Elliott spent Christmas in hospital with his family but had earlier told Santa that he did not want to spend his 4th birthday, on January 8, in hospital.
He will still be in hospital on his birthday but the family intend to take him out somewhere.
Mrs Crimp approached Operation Sugar - a non-profit group that provides free custom-made birthday cakes to seriously ill children - and they are going to make a Lightning McQueen cake for Elliott for his birthday.
Mrs Crimp said the recovery progress had slowed down and this month doctors will decide whether to amputate Elliott's right foot or part of that leg to below the knee.
"He has no bandages on his upper body which is good. We can take him for a walk in his wheelchair."
The family have taken him to Kelly Tarlton's underwater aquarium and Motat (Museum of Transport and Technology).
Mrs Crimp is hoping her son will be out of Middlemore within the next two to three months and then he will go to the Wilson Home on Auckland's North Shore for rehabilitation.
Mr Crimp, who works in the mines in Australia, has now returned home for at least two months.
"When we need for him to go back he will go but for now he is going to stay," Mrs Crimp said.
Mrs Crimp described 2012 as an "eye-opening year".
"It has been the worst year we've had but this year is going to be the greatest. Elliott is going to be home."
Mrs Crimp said driving through the Mamaku Ranges the other week she said she thought about the day when they would be driving through there once more and bringing Elliott home.
"That is going to be awesome ... Family has always been the most important thing but this sort of puts everything into a different light. We have spent the last five or six years trying to build up assets for when we are not around. Now it's who cares about later on. We want to live for now."
For more articles from this region, go to Rotorua Daily Post