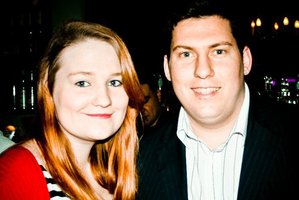 It was anything but a happy New Year for a young Auckland couple whose wedding rings were stolen in a burglary a month before their wedding.
Jade Coffey and her fiance, Ricky Jack, are to marry on February 16, but their excitement turned to anguish after the burglary on New Year's Eve.
Miss Coffey, 22, was staying at a friend's house and her sister was home asleep in their Howick flat when thieves broke in.
"My sister heard a noise at about 1am and she thought it was another flatmate coming home," said Miss Coffey.
"She was going to get up, but luckily she didn't. When she got up in the morning everything was gone and she realised what had happened."
Miss Coffey, a shop assistant at Manna Christian Store, got a call from her sister soon after and heard how the thieves had taken items including a TV, sound system, bottles of whisky, clothing, DVDs and games.
"The first thing I said to her was to ask her to see if she could find the rings. When she couldn't I just started crying," Miss Coffey said.
Her ring is a white gold band and Mr Jack's is a wider, brushed yellow gold band. The couple are offering a $500 reward for anyone who can help them recover the rings undamaged.
"The shop we bought them from is not in New Zealand any more. The rings we chose were absolutely perfect for us and we don't want to settle for second best" Miss Coffey said.
It is not known how the offenders got into the house.
"They should be ashamed of themselves, doing that on New Year's Day," said Miss Coffey.

Can you help?
If you have the rings or know where they are please email Mr Jack and Miss Coffey on foundrings@gmail.com, or call the Counties Manukau police on (09) 259-1200.
Alternatively, you can contact Crimestoppers anonymously on (0800) 555-111.