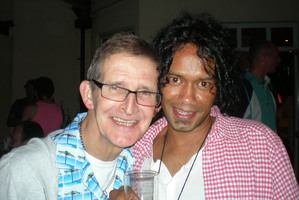 British detectives have issued a $10,000 reward for the arrest of a New Zealand fugitive suspected of killing a gay man in his UK home.
Police have also taken the unusual step of creating a dedicated website to the death of Michael Polding featuring pictures of the victim and the man wanted for questioning - Ricardo Pisano - who is South African. Homicide detectives plan to visit South Africa to help the search for Pisano and have not ruled out travelling to New Zealand.
A Sussex Police spokeswoman said: "We have been in close contact with colleagues in New Zealand and South Africa in our search for the suspect but as yet he has not turned up."
Pisano walked out of Tongariro/Rangipo Prison in Waikato 11 years ago and has not been caught since. Adding to the authorities' problems is the fact he uses several aliases including Ree, Ricky, Ricardo Pisano and the name he was jailed under in New Zealand aged 24, Brandon Victor Pillay. He had served eight months of a 15-month sentence for extortion when he escaped from a work party.
Sussex detectives want to question him after Mr Polding's decomposed body was found in his Brighton flat in July after a call from Mr Polding's sister in Scotland who had not been able to contact him. Mr Polding, 63, died from multiple injuries and his body may have lain undiscovered for two months.
Police believe Pisano was living in the victim's flat at the time of his death.
The Sussex Police spokeswoman said: "We're hoping the reward might help jog someone's memory - it's for an arrest not a conviction. We're also hoping the website will prompt people's memory. It's really important people look at the photos on it and study his face because he has changed his names and appearance many times." The website - www.michaelpoldingmurder.com - has a number of pictures of Pisano.