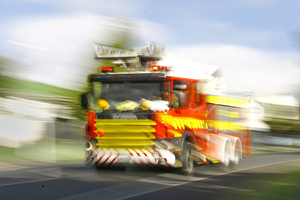 South Island fire crews were kept frantic overnight battling numerous fires, including several suspicious blazes.
Southern fire communications shift manager Andrew Norris said crews were called to house, shed and vegetation fires through the night.
Most of the fires were exacerbated by strong winds blowing up the country, he said.
Police are investigating two suspicious house fires in the Christchurch suburb of Linwood, one in Hereford Street at 9.30pm and the other in Draper Street at 3.30am.
Mr Norris said it was not known if the fires were related, but both properties were red-stickered, derelict homes and both were well ablaze when fire crews arrived.
Invercargill police are investigating a suspicious kitchen fire at a property in John Street, which started about 2.30am.
A resident was hospitalised after suffering smoke inhalation.
Just an hour later in nearby Blyth Street, fire crews rushed to a large shed fire. Police and fire safety were also investigating its cause, Mr Norris said.
Near Alexandra, a man suffered burns to his face when a vegetation fire threatened his property, the Olrig Homestead, about 1.30am.
Mr Norris said 12 appliances attended the fire, which took about two hours to extinguish.
People celebrating the start of the New Year have been blamed for causing other fires in the south, including numerous minor scrub fires in Cromwell that were started about 1.30am, he said.
Fireworks were also believed to have started a massive blaze at the Waitake River mouth near Timaru.
Crews were still at the scene dampening down hotspots from the fire, which took nine hours to get under control, Mr Norris said.
And numerous units attended an 800 square metre blaze at Mt Iron, near Wanaka, which started about 1.30am.
- APNZ