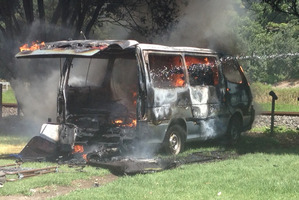 A man suffered minor burns to his head and neck after his van caught fire at a popular east coast holiday spot yesterday.
The van was well ablaze by the time firefighters arrived at the Pikowai Campground at Matata, near Whakatane. A Fire Service spokeswoman said it was unclear how the fire started, but it was extinguished with a high-pressure hose.
She said the driver was all right and the fire did not spread to any other vehicles or buildings.