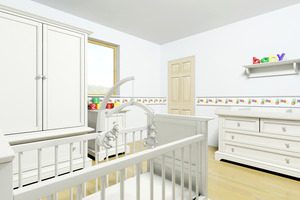 A Nelson toddler has been killed after becoming entangled in a blind cord.
The 14-month-old boy, whose first name is Mac, died on December 22, after he became tangled in the cord while he was in his cot in his Brunner St, Nelson home.
An adult at the home found Mac and called 111. An ambulance spokesman told the Weekend Herald that staff were told the boy had been strangled, and believed he was still in his cot when the tragedy occurred.
"The patient was deceased ... some form of choking or hanging. But it was asphyxiation in a cot."
Staff tried CPR to revive the child but he could not be saved.
"Unfortunately the 14-month-old was a little bit beyond us at that stage," the spokesman said.
Barbara Dunn, spokeswoman for Nelson police, said officers were called to the address after a report of a sudden death.
"The matter has been investigated and has been referred to the coroner," she said.
His parents, Rebecca Malthus and Adam Hicks, have asked for privacy as they deal with the tragedy.
Messages of support have appeared on Ms Malthus' Facebook page. A cousin, Nicole Begg, confirmed the sad news to shocked friends.
"There has been a devastating family tragedy and it is a very sad time for Adam and Rebekah. Please respect their request for absolute privacy and Rebekah has asked for no phone calls from anyone for the next while."
Another, Prue Fothergill, said: "Thinking of your family today as you begin the tragic journey of firsts without your precious baby Mac."