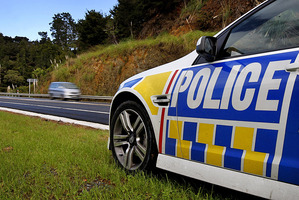 Fatal accidents, breakdowns and huge traffic backlogs have plagued the first four days of the official Christmas road toll period.
The holiday road toll tonight remains at three, with two men and an elderly woman killed on the nation's roads.
A toddler and a teenager have also lost their lives in vehicle accidents over the Christmas break.
Holiday traffic has been severely disrupted on the country's main highway north of Auckland and on the Kapiti Coast tonight, with accidents and breakdowns causing huge delays.
Yesterday a 58-year-old Taumarunui man was killed in a single-vehicle crash near Taumarunui, shortly after 1pm.
The accident happened five kilometres north of the town on State Highway 4. No one else was in the vehicle at the time.
A young man was killed after another serious car crash in Southland yesterday.
The accident happened 200 metres east of the Lorneville-Dacre highway, north of Invercargill, about 6.30am.
Twenty-four-year-old Shane Curtis Tosh was found dead at the scene. He was the sole occupant of a Honda saloon.
Also yesterday, a newborn baby was taken to hospital after the car they were in crashed head-on into another vehicle as it turned a corner in Waikato.
The baby and its parents were travelling south on Kawhia Rd at Tihiroa, west of Te Awamutu, when the cars collided on a sharp bend about 4.15pm.
Firefighters had to winch the couple's car off a road barrier and wedge the passenger door open to free her.
And Chinese national Rongmei Wang died at the scene of a two-car crash in Hamilton on Christmas Day.
The 71-year-old woman was a rear passenger in a car that collided with a ute at the intersection of Te Rapa Rd and Avalon Dr about 12.35pm.
Four of her family members were taken to Waikato Hospital.
Police later tracked down a 26-year-old suspended driver who allegedly fled the crash scene after a member of the public followed her from the accident site.
Meanwhile, a three-year-old toddler was killed at Hatepe near Taupo about 9pm on Christmas Eve when he was run over in a shared driveway. Te Haeata Pitiroi was to be farewelled by grieving family today[27/12].
And 16-year-old Rowan Cai Parker was killed about 6.30pm yesterday when he lost control of the quad bike he was riding in the Chaslands area of South Otago and drove over a cliff - falling 150 meters on to rocks to his death.
Neither Rowan's nor the toddler's deaths count towards the official holiday road toll as the crashes did not happen on public roads.
The official holiday road toll began at 4pm on Christmas Eve and will finish at 6am on January 3.
Last year 19 people died and 381 were injured in crashes during the official Christmas holiday period.
- APNZ