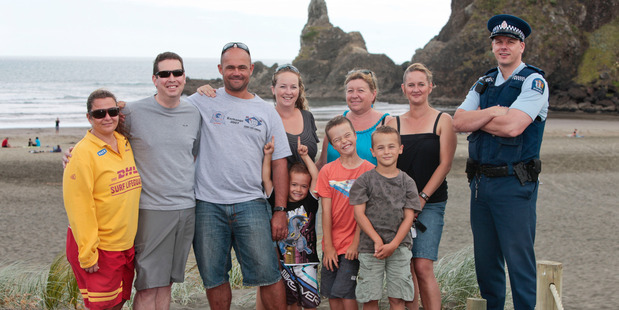 There's always a light on at Jonathon Webber's house - and this weekend two skinny-dippers joined the long list of people saved by that shining beacon.
The duo were among a group of tipsy tourists who ignored Piha locals' warnings and took a midnight swim near Lion Rock at the famous surf beach on Auckland's west coast.
It's a case with similarities to the 2004 disappearance of Iraena Asher, who most likely drowned after being swept out to sea. On that occasion, it was local couple Bobbie Carroll and Julia Woodhouse who took in the distressed young woman after finding her wandering in her underwear.
Asher's story ended in tragedy when she disappeared again, a few hours later. Her body has never been found.
Now, Carroll is able to share a good news story on the local news site she edits, Piha Village Voice.
She says the 20 or more people involved in rescuing the naked swimmers from Lion Rock were "Piha's night-time heroes".
Jonathon Webber told the Herald on Sunday a distressed young woman arrived at his doorstep around 1am yesterday and told him her friends were missing at the beach. He dashed to the surf club, got a quad bike and drove up and down the beach in the darkness.
Miraculously, one of the women had been washed right around Lion Rock and he found her on the shore, scratched, cold and scared.
A police helicopter spotted the other woman huddled on the jagged base of Lion Rock. Two other volunteer lifeguards - Duncan Clarke and Karel Witten-Hannah - waded out to get her. Webber said: "We had concerns about her fatigue and exposure - obviously not having any clothing on - but they got her into a rescue tube and managed to get her back to shore."
Webber is one of dozens of Piha locals who dedicate their free time to helping the hundreds of people who get into trouble at the beach each year. The resuscitation officer from Auckland City Hospital has been lifeguard at Piha for 15 years.
Fiona "Camp Mother" Anderson runs Piha Domain Camping Ground and is also a St John Ambulance officer.
She had warned the group of tourists - "couch surfers" from various countries - not to go to the beach last night. At 2am she was woken by the police helicopter followed by a flurry of calls from the local volunteer. "It was 4.30am by the time I finished sorting out the girls, giving them a caravan to sleep in and making them cups of tea because they were very cold."
At least one of the women would have drowned had it not been for local volunteers, and Webber's lighthouse. "There's always a light on at Jonathon's house. If people get into trouble at that beach they just hone in on that beacon."