Kiwi Christmas get-togethers can often begin with reunions at the Auckland Airport arrivals gate. This week, the Herald has been capturing some of these precious moments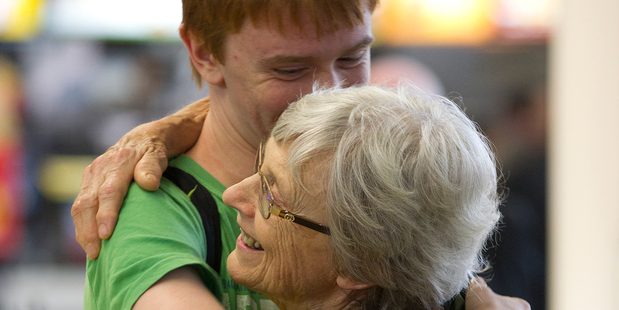 Graeme and Cynthia Landels were unable to hide their excitement at seeing their son and grandchildren for the first time in three years.
Mrs Landels said it was the first time she and her husband would spend Christmas with their 3-year-old grandson, Adam.
Their son, Alistair, and his family arrived from Sweden on Monday.
Mrs Landels said Adam and his 15-year-old brother, Mikael, would be tired but excited after their flight.
Mr Landels said his son and family would enjoy a four-week break from the cold.
"It's -18C over there at the moment, so he'll be glad to get away from that."
Mrs Landels said she was excited to see everyone again, and knew they would enjoy their time here.
Their son moved to Sweden 18 years ago to pursue orienteering after winning the Orienteering World Cup in 1994.
Alistair Landels said he was looking forward to taking his sons orienteering in New Zealand.
When asked how her son would occupy his time here, Mrs Landels said: "Orienteering, what else?"