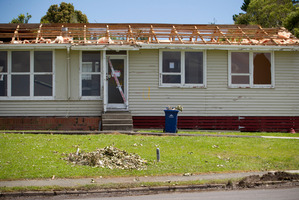 One Hobsonville family still needs emergency accommodation as a result of the tornado that ripped through Auckland earlier this month, Civil Defence says.
The storm on December 6 damaged 384 properties, 89 seriously.
Fifty have been repaired and the occupants allowed to return.
Another 79 properties will be repaired by the end of January.
A total of 123 needed emergency accommodation - and all but one family have somewhere else to stay.
The tornado killed three construction workers when it ripped through Whenuapai and Hobsonville.
- APNZ