Kiwi Christmas get-togethers can often begin with big reunions outside Auckland Airport's arrivals gate. Over the next week, the Herald will capture some of those precious moments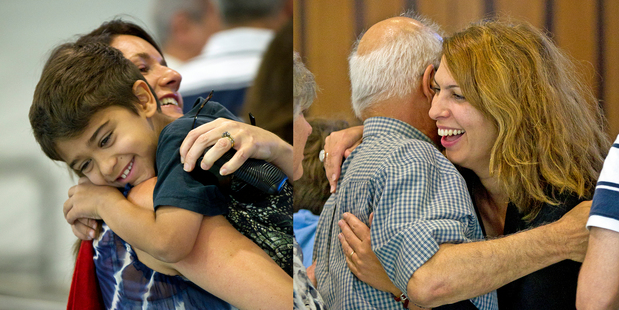 Sheila Hussona's family set up foil balloons to welcome family flying in from Qatar at the weekend.
The Hussonas - who had been waiting for an hour - were showing their excitement at the barrier near the arrivals doors.
Mrs Hussona was there with three of her grandchildren, two sons, a daughter-in-law and her husband. She was waiting for her daughter Hana Lasuado, Hana's partner and their three boys, Leo, 10, Sebastian, 7, and Joseph, 4.
Three grandchildren live in New Zealand. They were all there - Lucy, Tom and Johnny, aged 14 to 10. "We all want to see who is the tallest out of this one," said Mrs Hussona, hugging Johnny, "and his cousin".
"We're all so excited to have them here, we're off back to Whangaparaoa after this for a swim."
Her husband Ayad, who is originally from Iraq, turns 70 on January 4. Family are visiting from Canada, England and the US to celebrate.
Mr and Mrs Hussona emigrated here after a son, Karim, Johnny's father, married a Kiwi.
When the Lasuados finally made it through the doors, the three children were wearing Santa hats and big smiles.