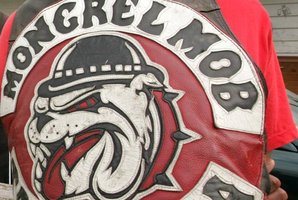 A gang member accused of attempted murder after firing into a group of people made an "urgent decision" because he felt his life was under threat, a court has heard.
But the man's lawyer says he did not intend to hit anyone and the fact he missed from about six metres meant he was a "lousy shot" if he had intended to kill.
Gisborne man Thomas William Grace, 34, has pleaded not guilty to attempted murder for firing a shot from a .22 calibre sawn-off rifle into a group of people in the early hours of November 6, 2011.
He has also pleaded not guilty to a second count of discharging a firearm with intent to cause grievous bodily harm.
Addressing the jury during the third day of a High Court trial yesterday, defence counsel Bill Calver said they could not be sure Grace had aimed the gun intending to kill.
Nor could it be ruled out that Grace was not acting in self-defence when he fired that shot, he said.
Mr Calver said Grace, a Mongrel Mob member with prominent facial tattoos, was facing an attack by a group of Black Power affiliates who vastly outnumbered him and the three other people he was with.
The other group, which consisted of about 10 people, crossed paths with them from across Gisborne's main street, Gladstone Road, by the Cobden Street corner.
Witnesses from the larger group said it was William Edmonds, and a female he was with, who began shouting out taunts and gang slogans.
Joshua Robinson, from the larger group, said they responded and before long a fight erupted between him and Edmonds by the Shell Service Station.
It was alleged that a shot was fired from a gun Grace pulled from his bag, which members of the larger group - Mr Robinson, Chase Joseph and two other men - said was pointed at them from a distance of around six metres.
Mr Calver said Grace would have to be a pretty lousy shot to miss them, unless he was deliberately aiming away.
"I suggest the very fact that no one was hit raises that doubt."
Mr Calver said his client had pleaded guilty to carrying a sawn-off gun in a public place but that he used it because he was being chased by a rival gang who were full of adrenalin and aggression.
"They weren't chasing them to ask them for a cup of tea."
But Mr Robinson testified that Grace had invited him and the group he was with to follow him.
"None of us like gangs, gang members, or gang members carrying guns in our street - this is not the Wild West," said Mr Calver.
But he told the jury that Grace would have felt his life was at risk, as one of the other group had testified that he had been carrying a weapon - a hammer.
"He had to make an urgent decision in the space of a few seconds so don't be too tough on him. This was never going to be a fair fight - his life and that of his friends were under threat."
In her summing up, Crown prosecutor Jo Reilly said this was a trial where the jury had heard about a lot of bad behaviour.
Young people, one as young as 13, were out in the early hours of the morning after a night of excessive drinking. There were gangs, gang slogans, weapons - including a gun and a hammer - being carried by the opposing gangs in a lifestyle that was probably foreign to the jury, she said.
The Crown case was that the firearm was intentionally discharged at a person or persons.
"There can be no doubt that if it had found a human body, death or serious bodily harm would have happened on who it had hit.
"There was nothing he could have intended other than to kill or cause grievous bodily harm."
Justice Stephen Kos will sum up the case today before the jury retires.