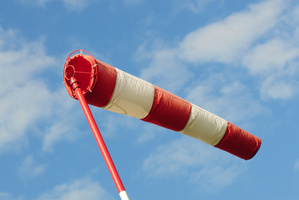 High winds lifted roofs and blew down a fence in Featherston as gales buffeted the region yesterday.
Mike Wanoa, Fire Service communications supervisor, said the the first wind-related call for volunteer Featherston firefighters involved a fence that was blown down in Farrier Grove about 6.45am yesterday.
Within about 15 minutes, he said, Featherston firefighters were called to secure part of a roof lifting from a home in Waite St.
A volunteer crew was called soon after 9am to nail down a roof that was lifting on the toilet block at a recreation centre in the town, he said.
MetService forecaster Ian Gall said motorists on the Rimutaka Hill Rd were buffeted by strong winds consistently gusting up to 85km/h throughout the day yesterday.
A severe weather warning was in place for the region yesterday, with winds peaking in the afternoon and expected to die off overnight and today.
Highest wind gusts were recorded at Castlepoint, with gusts of 170km/h, and at Cape Turnagain, where winds topped 185km/h.
For more articles from this region, go to Wairarapa Times-Age