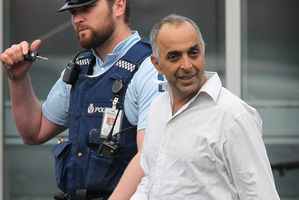 One of the criminal figures depicted in the Australian television series Underbelly planned retribution against confidence trickster Loizos Michaels' partner in crime.
Michaels was found guilty on Friday of conning several people out of $3 million in scams he ran in New Zealand. In May, his associate, George Plakas, was jailed in Melbourne for 5 years for conning victims out of almost A$750,000.
Among those they crossed was Vince Benvenuto, from the Mafia family featured on Underbelly. Benvenuto's brother Frank, a Melbourne Mafia boss and fruiterer, was shot dead outside his home in 2000.
Benvenuto offered Rod Morgan A$50,000 to withdraw his complaint against Plakas in 2007 in an apparent bid to exact revenge himself once Plakas was released from custody.
"He wanted me to drop the charges against Plakas so he could apply his own form of justice," Mr Morgan told the Herald.
Mr Morgan, who lost A$40,000 in Plakas' fraud, had set up a web blog to try to help police catch Plakas and Michaels and was phoned by the Mafia figure as a result.
"Vince Benvenuto and some of his cohorts were taken for money by Plakas and Michaels," Mr Morgan said.
Benvenuto called him three times.
Unknown to either men, the calls were intercepted by organised crime squad police who were investigating a drug operation run by Benvenuto.
As a result, Benvenuto was convicted last year of attempting to pervert the course of justice, as well as trafficking cocaine, methamphetamines and Ecstasy, possession of a weapon and obtaining financial advantage by deception. He was sentenced to nine years and two months' jail, with a minimum non-parole period of seven years.
Born in Italy, Benvenuto moved with his family to Australia as a 1-year-old. His father, Liborio, ruled as godfather of Victoria's Honoured Society gang in the 1960s and 70s. Benvenuto snr died of natural causes in 1988.
Plakas was convicted of fraud relating to stock market scams promising what Mr Morgan described as "astronomical" returns.
On Friday, Michaels was remanded in custody by Auckland District Court judge Chris Field for sentencing this month on charges that carry a maximum penalty of seven years' prison.