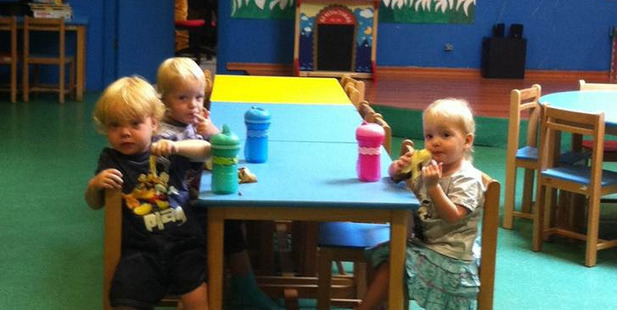 The parents of Kiwi triplets killed in an inferno at a Doha mall have marked the 6-month anniversary of the tragedy by releasing the last photograph taken of their toddlers.
The photo of Lillie, Jackson and Willsher (known as Winkie) Weekes was taken at 8.30am on May 28 at the Villagio Mall's Gympanzee Nursery. At 11am that day the deadly fire broke out in the mall.
"It's only one of about 15,000 photos we have of our monkeys, but as the very last photo of them together, alive, it now holds so much significance," said mother Jane Weekes.
"Six months later and it's the small, everyday details in this last, not very exciting photograph that remain clear in my mind when the rest of that day, and the days following are a confusion of fear and despair and pain.
"When I look at this picture I hear my own voice as I put my camera phone in my bag and say to Lillie, Jacky and Winkie as I walk away ... 'Mummy loves you, see you later'.
"Lillie is wearing a blue skirt that her Daddy [Martin] bought her before she was born. At 2 years old it finally fit her tiny waist. Jacky couldn't wait to take his shoes off because he was so excited to play in the toy kitchen. Winkie was hungry for his banana and was wearing purple socks. He would only keep his socks on if they were purple, his favourite colour."
Delays over a criminal hearing to determine responsibility for the deadly blaze have angered Mr and Mrs Weekes.
The hearing was supposed to started on November 15 but was postponed after the owner of the Gympanzee, Al Kuwari, failed to show up for a fourth time.
The case returns to court today, and Doha News had reported that if Ms Kuwari did not attend judges would send police to summon her to court.
Mrs Weekes said after she took the photograph of her children that day, four more were taken, one of Jackson being carried from the scene and three for the purposes of identifying their bodies.
"I didn't see the next photos taken of Lillie, Jacky and Winkie; photos that Martin had to be shown. Us and other frightened parents were crammed into a tiny windowless office in Hamad Hospital.
"We are scared to look at each other, too scared to see our own fear reflected in each other's eyes, scared to admit we are each hoping that if anyone has survived, it will be our child, our children."