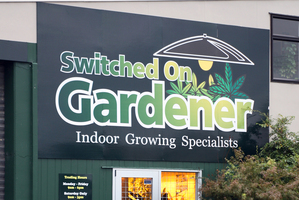 None of the communications recorded by undercover police officers at Switched on Gardener stores were consistent with the company being an organised criminal group which sold equipment to cannabis growers, a court has been told.
The trial of five men alleged to have spearheaded the operation has nearly come to an end in Auckland District Court, with defence lawyers trying to convince the jury that the company's activities were all above board.
Switched on Gardener owner Michael Maurice Quinlan, general manager Peter John Bennett, distribution manager Andrew Barry Mai, South Island manager Paul Kenneth Barlow and business development manager Ricky Cochrane have denied charges of belonging to an organised criminal group and supplying equipment to supply cannabis.
Two companies owned by Quinlan, Stoneware 91 Ltd and Hydroponics Wholesalers, are also on trial.
The court has been presented with evidence that undercover police officers, who wore wires and posed as customers, bought marijuana plants from shop staff.
However, Quinlan and Bennett's lawyer Paul Davison QC said none of these undercover recordings were consistent with the charges.
Staff employment contracts adhered to a strict code of conduct, and required drugs be kept away from work, he said.
"Every communication is consistent with them [the accused] enforcing the standards and wanting to remain within the law," said Mr Davison.
Switched on Gardener may have employed people with an interest in "the herb", but that didn't mean they did anything illegal.
He said the company's "no cops" on the payroll policy was possibly a joke.
"The evidence that you have heard falls woefully and way short ... of amounting to proof beyond reasonable doubt that Mr Bennett and Mr Quinlan are guilty of any of the charges."
Cochrane's lawyer Matthew Dixon said his client was a purchasing officer for Hydroponics Wholesalers and was primarily "all about the numbers."
He said this company was set up to cater for the growing needs of a legitimate industry - commercial and hobby indoor gardening.
Mr Dixon likened the police operation to undercover officers going into DB Breweries and asking the malt supplier how many people who get served at bars are underage.
He said Cochrane would have had "less than a vague expectation" that the products would have been used to cultivate cannabis.
The Crown says Switched on Gardener was a "one stop shop" for cannabis-growing equipment.
Defence lawyers for the other two accused are expected to give their closing addresses to the jury tomorrow.