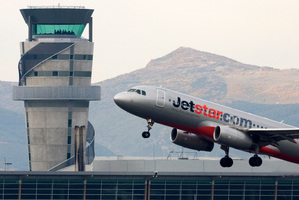 A first-time Jetstar customer says he will never book with the airline again after a lengthy ordeal over flights to Melbourne.
Aucklander Chris Dugan, 34, says the two-and-a-half-month dispute - during which he spent hours on the company's helpline, made repeated complaints and faced spending Christmas stranded in Australia - has "left a sour taste in the mouth".
"I'd rather swim, to be brutally honest," than try to fly Jetstar, he said.
Mr Dugan booked return flights in September for a November trip between Auckland and Melbourne for himself, his partner and a visiting friend.
However, after the friend got his dates wrong, their Melbourne trip needed to happen a month later.
Mr Dugan contacted the Jetstar helpline, expecting to pay to change dates, but was told the airline would waive the fee as a gesture of goodwill, because it was a genuine mistake.
"She said there was absolutely nothing to pay - these are booked, confirmed, paid. I thought 'Oh wow'."
But when no confirmation arrived of the changes, he called Jetstar to be told again there would be no additional charge. Jetstar's policy states customers must pay between $40 and $70 a person per flight, plus the difference in fare, to change. However, the charges can be waived in some circumstances.
After several days without confirmation, he called again only to be told contradictory information.
"My flights had not been confirmed as I still had an outstanding balance, this was despite my previous conversation."
He refused to pay the difference because of the original advice, and was told to make a complaint online.
He did so, and also sent a letter to Jetstar chief executive David Hall and Qantas chief executive Alan Joyce about his treatment.
Last month he received an apology and an "acknowledgement of failure" by the airline. His changed flights were confirmed at no extra cost.
Jetstar communications manager Phil Boeyen offered a further apology.
"Our call centre endeavours to answer calls as quickly as possible but there can be very busy times, and at these times it may be more convenient for a customer to call back later," he said.
"At last I felt really relaxed, 'I can enjoy this now'. And then I became a victim of their cancelled flights," said Mr Dugan.
Last week, Mr Dugan was one of several passengers told they had to reschedule flights from Melbourne over the festive season, throwing his Christmas plans into chaos.
His return flight on December 18 was cancelled and rebooked for 10 days later. He was told he'd have to pay an extra charge to move the outbound flight date back and the return flight changed to December 17 to give them the same amount of holiday time in Melbourne.
The new flights were eventually changed at no cost, but Mr Dugan said the experience had put him off future travel with the airline.
Flight fiasco
* Sept 11 - Mr Dugan books return Auckland-Melbourne flights for three people on Nov 12-19, $884.
* Sept 13 - Calls Jetstar helpline to change dates to Dec 12-18. He's quoted an additional $720 to change flights but told it will be waived.
* Sept 15 - Doesn't receive confirmation. Calls again and told fee waived.
* Sept 16 - Still no confirmation. Calls again and told new flight dates cannot be confirmed until difference is paid. Mr Dugan refuses to pay as per agreement.
* Sept 26 - Makes online complaint.
* Sept 28 - Emails complaint to David Hall and Alan Joyce. Receives phone call apology and acknowledgment of failure.
* Oct 3 - Jetstar operator responds to online complaint, apologising for inconvenience. Jetstar confirms flights changed and no additional payment required.
* Nov 21 - Mr Dugan receives email advisory to say his return flight on Dec 18 is cancelled and has been rebooked for Dec 28. He contacts Jetstar wanting return date changed and is told it would cost him a cancellation fee to also move the outbound flight. He refuses. Flights rebooked for Dec 10-17 at no extra charge.