Two top-selling stores in Auckland suburb have sold tickets netting $35.5 million in top prizes to four punters.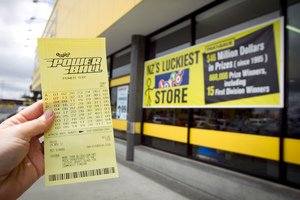 Manukau is the luckiest Lotto suburb in Auckland, the Herald can reveal.
The area has seen more than $55 million won in top prizes by 45 punters who bought a ticket at one of eight stores during Lotto's 25 years of operation.
The Herald tallied which suburbs were the luckiest by calculating the most paid out in first division claims, using a list of 239 winning stores in Central Auckland, Waitakere, Manukau City, the North Shore and Papakura.
Figures provided by the Lotteries Commission were to July 29 and included Lotto, Strike and Powerball prizes.
The numbers were driven in Manukau by two top-selling stores - Pak'nSave which sold a $22.2 million single Powerball ticket, and Manukau City Lotto at Countdown in the Westfield shopping centre, which has sold three winning Powerball tickets, worth a total of $13.3 million.
Cheema Singh, from Manukau's Diorella Superette, wasn't surprised the area was the luckiest.
"We have lots of regulars who keep coming back to us for their tickets. We sold a first division ticket for half a million, split between two people. They were so excited, ecstatic, you could say."
Papakura was the second luckiest with $47.75 million paid out to 47 winners at one of five stores.
The area can lay claim to selling New Zealand's single biggest Lotto win.
A $28.7 million ticket was sold to a pig hunter from the region at the local Mobil service station in October 2010. The man, who did not want to reveal his identity, said he had bought the $12 Power Dip ticket on an impulse.
Mangere, Glenfield and Massey rounded out the top 10, with $32.1 million, $29.1 million, and $24.9 million paid out receptively.
There were three Manukau City suburbs in the top 10, two on the North Shore, two in Auckland Central, two in Waitakere and one in Papakura.
When it came to the luckiest suburbs in terms of the highest number of winners, Henderson topped the list with 59. And Auckland city had the highest number of stores that had sold first division prizes with 13.
A 26-year-old man who won $1 million in Lotto in a holiday promotion at the start of the year made a special trip to Ashby Superette, in Glendowie, which he regularly bought from as he had heard it was a lucky store.
But the figures show the store has sold only one first division prize, worth $500,000.
The Willy Wonka store in Central Auckland has sold two first division tickets, totalling $1.36 million.
Manager Meghana Shah said: "We have no idea who the millionaires were - they didn't want to make a public thing about it."
HOW MUCH HAS YOUR SUBURB WON IN FIRST DIVISON?

Read more: $20.5m Lotto winner still a mystery