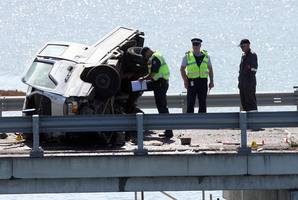 A 38-year-old man was killed yesterday when his light truck collided with a logging truck in Napier, throwing him into the inner harbour.
Police said a doctor at the scene, who went to the aid of the driver in ankle-deep water, told them he believed the man died instantly.
The head-on collision occurred close to Hawke's Bay Airport, between Prebensen Drive and Meeanee Quay, about 1.20pm.
Police said it appeared the driver of the southbound light Nissan truck was not wearing a seatbelt.
The driver of the logging truck was taken to Hawke's Bay Hospital for observation after he started to display symptoms of shock.
The expressway was closed as serious crash unit staff investigated amid a 100m trail of debris.