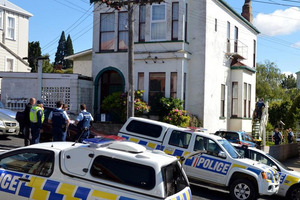 A man charged after a young mother was stabbed in the neck at her Dunedin home on Monday is now facing a charge of attempted murder.
The 26-year-old man appeared in Dunedin District Court today on an original charge of intentionally causing grievous bodily harm to the woman but he is also now charged with attempting to murder the woman, assaulting her with intent to commit sexual violation and using a pair of scissors in the course of unlawfully entering the Duncan St flat.
At the request of defence lawyer Campbell Savage, Judge Dominic Flatley remanded the man in custody, with continued name suppression, for a mental health report.
The man is due to reappear again next month.
The woman had surgery this week for the injuries she suffered in the attack, which police said she was lucky to have survived.
She had answered her front door about 8.30am and had a brief chat with a man who then stabbed her after getting inside the flat she shared with her 3-year-old daughter.
She managed to fend off her assailant, and left the flat with her daughter, who was unhurt.
A passing motorist saw the woman in a distressed state and took the victim and her daughter to hospital.