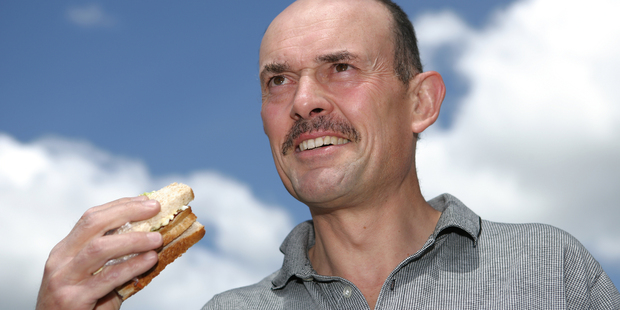 When Tony Henderson started choking on a sandwich at a fireworks display he thought his own lights were about to go out for good.
He survived to tell the story, albeit with a broken rib as a reminder of life-saving action carried out by a stranger.
The Whangarei teacher would like to know the name of the man who performed the Heimlich Manoeuvre on him at the Tomarata Primary School annual fireworks fundraiser.
Mr Henderson and his family were waiting for the display to start at the school, 15km south of Mangawhai, when he went to the car to get his phone. He started to choke on the sandwich he was eating, and caught the attention of a man walking past with his family.
"I still had a whisper of air getting through but I couldn't breathe. I tapped this guy on the shoulder and gasped out 'Heimlich', and he said 'for real?'. The next thing, he's got me in the hold and done it."
The Heimlich Manoeuvre is where someone stands behind the choking person, puts their arms around the lower abdomen and jolts hard to dislodge the blockage.
Mr Henderson was still wheezing but breathing again as the two men went their separate ways moments later.
"I pumped his hand up and down and muttered a few bumbled thank yous, but I was in a bit of shock, I wasn't thinking clearly. I didn't even ask his name."
The life-saving treatment "wasn't perfect" said Mr Henderson, who is now nursing a broken rib, "but that's a very small price to pay. As my brother put it, 'ribs heal, dead people don't'."
There is mixed opinion from medics about the Heimlich Manoeuvre because of the potential for injury
but Mr Henderson, a physics and science teacher at Whangarei Girls' High School, said he thinks everyone should learn it. He believes a thump on the back would not have worked and he'd have died had not a passer-by known what to do.
He would like to learn the stranger's name - and tell him how grateful he is that when he used what could have been his last breath to rasp out one word, the man knew what it meant.
For more articles from this region, go to Northern Advocate