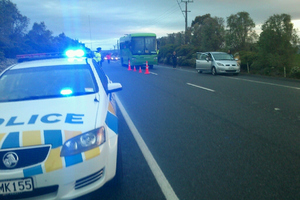 A woman hit by a bus leaving Toast Martinborough yesterday was due to be released from Wellington Hospital this afternoon.
The 31-year-old festivalgoer was hit by a bus about 6pm yesterday on Kitchener St.
She was taken to Greytown then flown to Wellington Hospital with suspected skull fractures and internal injuries.
Masterton Senior Sergeant Carolyn Watson said the woman had made a very good recovery and was likely to leave hospital today with just a concussion and cuts and bruises.
Police would be interviewing her about the incident in coming days, said Ms Watson.
Toast Martinborough organisers extended their best wishes to the woman and chairman Richard Riddiford said they were delighted to hear her injuries were not serious.
"This was a terrible conclusion to what had probably been a fantastic day among the vines, and we wish her a speedy recovery.''
Meanwhile, three drunk drivers were arrested leaving Toast Martinborough yesterday, including one who had a breath alcohol reading more than three times the limit.
Ms Watson said police stopped 398 people at a Ponatahi Rd checkpoint as they left the food and wine festival.
A Masterton man in his 40s was caught with a breath alcohol limit of 1405mcg at the checkpoint - the limit is 400 - and Ms Watson said he was "pretty hammered''.
For more articles from this region, go to Wairarapa Times-Age