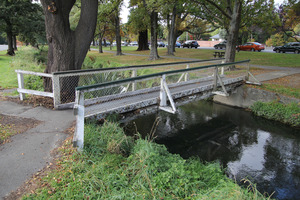 A sickness beneficiary who suffered a rare shaking syndrome was last seen standing vacantly in the middle of a Christchurch bridge on the night he drowned.
A coroner has found Craig Trevor Beckley, 47, died accidentally after he fell into the city's Heathcote River some time after 10pm on October 30 last year.
Several witnesses who saw Mr Beckley that night said he was acting in a drunken manner, but Coroner Richard McElrea has found there was no evidence he had been drunk.
He found Mr Beckley's apparent intoxication was likely due to myoclonus dystonia - a rare condition which causes involuntary shaking of the limbs.
Mr Beckley, a sickness beneficiary who lived alone, had left the Embankment Tavern on Ferry Rd on his bicycle about 5.30pm.
At one point he fell off his bicycle but later declined help from ambulance staff.
Mr Beckley was last seen about 10pm by a woman who said he was straddling his bike in the middle of the road on the Rutherford St bridge.
The woman said he was "just standing there vacant and blank" and an oncoming car had to swerve to avoid him.
"At the time he wasn't moving. He was standing completely still over his bike, looking straight ahead."
When she returned moments later, the woman saw him "moving a little bit, kind of scootering along with his bike".
Mr Beckley's body was found in the Heathcote River the following morning. His bicycle was found on the grass under a lamppost near the Rutherford St bridge.
Coroner McElrea found Mr Beckley had got off his bike and, in darkness, fell into the water and drowned.
He found the death was not intentional.
- APNZ