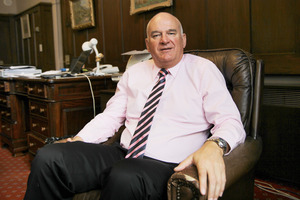 Christchurch Boys' High School headmaster Trevor McIntyre has resigned to take up an appointment as an executive adviser to the Christchurch Education Renewal Programme.
The announcement came from the board of trustees chairman Mark Jordan.
"In this role he will be responsible for working with the education sector during the consultation process. This recognises the great knowledge and expertise Trevor has built up over his many years of involvement with the sector," said Mr Jordan.
"The appointment is for a one year term but we have agreed that in the best interests of his commitment to the role, and for the long term stability of Christchurch Boys' High, it will be best for him to resign from his position as headmaster.
While we will be sad to see him leave, we are pleased that Trevor has been rewarded for his passion for the Christchurch education sector."
The Education Renewal Programme has been highly criticised for its lack of consultation and errors in fact after it announced the possible closure of 13 schools and merger of 18 in September.
In the proposals Christchurch Boys' High School had been slated to merge with Shirley Boys' High School but the Minister of Education Hekia Parata backed down last week saying this would not happen.
Mr McIntyre will take up the role December 3 and deputy headmaster Paul McWilliam will be acting headmaster.
Secretary for Education Lesley Longstone said Mr McIntyre had a long history of serving education in Christchurch.
"As executive adviser, Trevor will ensure the sector, parents and school communities have one of their own monitoring the integrity of the programme and facilitating the consultation process. He will act as a voice of the sector within the programme,'' she said.
Mr McIntyre said he was privileged to be more closely involved with the Education Renewal Programme.
"I would like to be seen as someone who can support and advise both the Ministry and the schools through the changes that are taking place.
"I'm looking forward to be able make a greater contribution to education in Christchurch,'' he said.
Mr McIntyre will also liaise with bodies such as CERA and the Earthquake Recovery Commissioner to ensure wider Christchurch rebuild issues were taken into account as the programme progressed.
Ms Longstone said the ministry would be advertising for up to five secondments from within the education sector in Christchurch to assist with the programme.
- APNZ