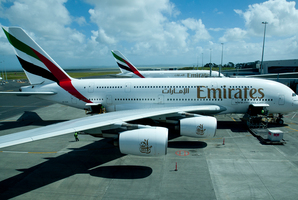 A New Zealander says "two or three metre flames" were coming from the engine of an Emirates A380 flight which suffered engine problems mid-flight last night.
Emirates flight EK413 was forced to turn around after it suffered an "engine fault" at 10,000 feet, about 20 minutes after leaving Sydney for Dubai, news.com.au reported.
There were 380 passengers on board.
"Emirates flight EK413 from Sydney to Dubai on November 11 turned back shortly after take-off due to an engine fault," the carrier said in a statement.
"Emirates apologises for any inconvenience caused to its customers, however the safety of our passengers and crew is of the highest priority and will not be compromised."
An Emirates spokesman told AFP the carrier was still working on what caused the scare but admitted passengers may have "seen a flash and heard noise".
"There was no flames or smoke," he added. "The pilot made a decision to turn back as a precaution."
Aucklander John Fothergill, 49, told news.com.au he saw a "flash" before the plane started to shake.
"I thought it could have been lightning but then we saw flames come out of the engine. The whole interior of the A380 lit up.
"You'd have to say there were two or three metre flames. (The) explosion shook the plane, there was a bigger judder.''
Mr Fothergill's wife, Dr Amal Aburawi, questioned the response of staff on the flight.
"The staff panicked more than the passengers," she told news.com.au.
"Everyone was running left and right (with) no one knowing what's happened.''
She also criticised the staff for not making an announcement in Arabic following the English announcement.
"This is where I feel angry, I feel angry for the way non-English speaking passengers faced this situation."
The plane dumped fuel and turned around, landing back at Sydney Airport about 11.30pm local time.
Fairfax motoring journalist Matt Campbell was also aboard the flight. He had heard the incident may have been caused by bird strike.
"I didn't see flames but the flash that I saw would be consistent with an engine exploding," he told the Sydney Morning Herald.
"It was a bright orange light, I didn't see it for more than a split second, but it was still a very scary sight."
- nzherald.co.nz