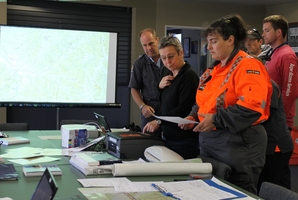 Fears are growing that a missing Christchurch tramper could have been swept away in a swollen West Coast river about two weeks ago.
Rex Leslie Taylor, 50, a fit and experienced tramper, has not been seen since October 16 when he parked his car at the end of the Totara Valley Road, intending to tramp to the Explorer Hut at the headwaters of the Mikonui River.
His family reported him missing on Tuesday and West Coast search and rescue personnel have scoured the area in extensive ground, air and water searches but have failed to find a single clue to his whereabouts.
Constable Michael Tinnelly said today the missing man left a note in the intentions log book at the Explorer Hut on October 23 saying he expected to be out two days later. He was now more than two weeks overdue.
"He had two possible ways out, either following the river down or climbing a range to reach a second hut, the Mikonui Bivvy (bivouac), which would again lead back to the river," Mr Tinnelly said.
"There is nothing in the second hut to indicate he reached it and so far our attempts to locate him elsewhere have proved fruitless."
Mr Tinnelly said there was a long period of heavy rain and the river would have been running high if Mr Taylor had "come to grief" while trying to cross it.
However, the whitewater rescue squad had searched the 9km to the Mikonui River mouth without finding him.
Mr Taylor is described as a fit and capable tramper who took it upon himself to carry out maintenance on mountain huts.
"It was a bit of a hobby, he didn't work, just got by on what he had."
The searches have been extensive.
"We have had a chopper scouring the tops and river, the specialist whitewater kayaking team on the river, and five search groups on foot including three tracker dogs, but have not turned up a thing.
"This morning we again have the chopper up and another four ground crew have gone in without success. However, it's a big area and there are some places that we have not covered with ground crews so we are looking at them. Sometimes ground crews find things that the fly-overs miss," Mr Tinnelly said.