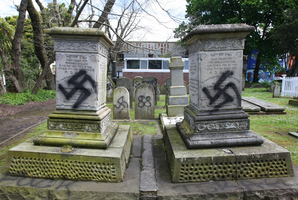 Police have dropped charges against one of the men accused of being involved in the desecration of Jewish graves in Auckland.
Nathan Symington, 23, was charged with intentional damage over the attack on about 20 graves in Grafton Cemetery last month.
The charge has been dropped because there is not enough evidence to carry out a "robust" prosecution, police said.
Two other defendants are still facing charges over the attack where anti-Semitic graffiti and swastikas were sprayed on the headstones at the cemetery on Symonds St.
About 15 had large black swastikas sprayed on them. One had "f*** Israel" scrawled on, another said "don't f*** with us".
Symington earlier admitted sharing a photo of the desecrated graves but labelled allegations he had participated in the attack as "a witch hunt".
"No I didn't do it. They're just trying to point the stick at someone. I feel like killing myself over this because my name has been publicly shamed,'' he told reporters.
The remaining two defendants are next scheduled to appear in court on November 13.
- nzherald.co.nz