Councillors soon to get options to decide fate of 19-storey administration tower.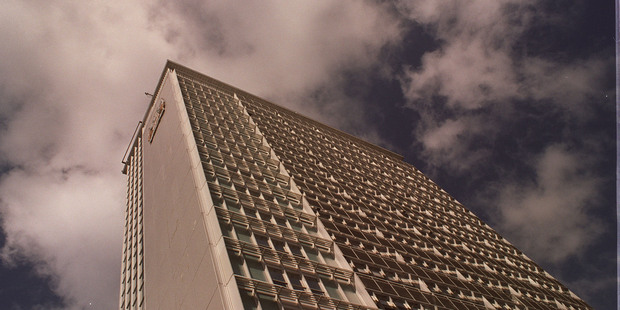 The $157.4 million move to a new super-sized headquarters for the Super City could cost ratepayers a further $10 million to demolish the Civic Building.
About 2400 council staff will begin moving into the 31-storey ASB Tower at 135 Albert St in early 2014, which senior officers say will save $101.8 million over 20 years and make better use of staff time.
But a confidential report on the big move, released to the Herald by the council, reveals the scale of the problems plaguing the Civic Building, including an estimated cost of $10 million to demolish it.
The 19-storey Civic Building is riddled with asbestos in service areas, ducts and around the external facade, beams and columns and the glass and aluminium entrance is corroding from water damage.
Executive officer Michael Quinn concedes the Civic Building is a problem and officers will present some options to councillors by the end of the year.
For now, officers are taking a zero-cost approach to the Civic Building on the basis the land value exceeds the cost of demolition.
Officers are also mindful of the heritage status of the Civic Building, described as one of the country's finest modernist buildings.
The council bought the ASB Tower for $104 million in July, after a review found it was the cheapest option.
The council will begin taking possession and fitting it out in the middle of next year when the bank completes the shift to a new $132 million funnel-topped building at Wynyard Quarter.
The council hopes to have 2400 people under the one roof within 10 years. It is keeping its Bledisloe House and Graham St premises in the city and plans to continue using offices at Henderson, Manukau and elsewhere for a total staff number of about 5600.
The move is also expected to free up spare council space for some of the 2300 staff employed by the seven council-controlled organisations, many of whom are located in more costly, privately-owned buildings.

The big move
Civic Building
*Designed in mid-1950s and opened in 1966
*350 tonnes of asbestos was removed in 1989
*$93m cost of refurbishing
*$10m cost to demolish
ASB Tower
*Opened 1991, 116m high
*Cost to move: $157.4m, comprising:
*$104m - purchase price
*$24.5m - fit-out
*$28.9m - upgrades and maintenance over next 10 years
Staff moving to ASB Tower
*560 - Civic Building
*953 - Hereford St
*295 - 360 Queen St
*350 - Takapuna
*150 - Pitt St
*100 or so - other locations
*2400 - total