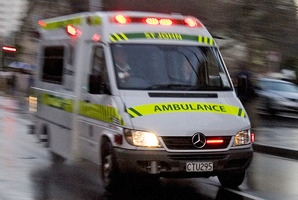 Two people remain in a critical but stable condition at Wellington Hospital today after being exposed to hydrogen sulfide in a chemical spill at a tanning factory in Wanganui yesterday.
Another 19 people were exposed to the gas, and were taken to Wanganui Hospital, but they were all discharged last night, a DHB spokeswoman said.
Emergency services were called to Tasman Tanning in Castlecliff about 5pm yesterday following a chemical spill.
Tannery workers, some of them being attended to by paramedics, were seen siting or lying on the grass outside the factory.
Police, St John and the fire service attended, with multiple ambulances and the fire service's hazardous materials unit at the scene. A decontamination unit was set up on Tod St.
Two people were ventilated after being exposed to the toxic gas.
Hydrogen sulfide is a colourless, poisonous, flammable gas. It has a strong smell, similar to rotten eggs. The hospital spokeswoman said the chemical affected lungs and breathing.
People living and working in the area told the Wanganui Chronicle the first they knew of the incident was a very strong smell of sulphur.
Tasman Tanning employs about 200 people and supplies leather to manufacturers around the world.
The family-operated business has been in operation since 1953.
- APNZ