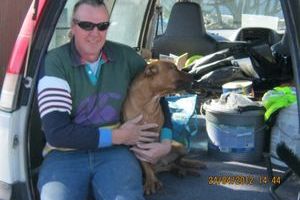 The family of bashed Martinborough man Peter Fisher have made a plea to locals not to take matters into their own hands.
Brian Fisher, father of the injured volunteer firefighter, said yesterday he and his wife Noeline have become aware of "talk of violence" against the alleged offender.
"We do not want any more violence against anyone and we ask that it is left to the police and the courts to do their duty," he said.
Mr Fisher said he and his wife had also been told that the family who called on his son's help immediately before he was beaten early on Sunday morning have been "receiving some unfounded criticism".
"Most of that criticism is from people with very little knowledge of the facts and, in our opinion, the family did exactly what 90 per cent of people in the community would, and should, be able to do," he said, which was ask a friend or member of the community for help.
Peter Fisher was bashed after he stepped in to help a group of young people socialising in a house in Broadway St remove an unwelcome visitor.
He was assaulted and taken by ambulance to Wellington Hospital in a critical condition, then admitted to the intensive care unit.
Mr Fisher has since been slowly improving. His father said yesterday that his son was now conscious and talking, although speech was difficult because of the injuries to his mouth and neck.
"Peter is progressing well, he is a very strong lad but he is not out of the woods yet," Mr Fisher said.
He said the hospital staff had been excellent in his son's treatment and care.
Martinborough fire chief Garry Jackson was making a return visit to Peter Fisher's bedside yesterday.
Mr Jackson said he had been shocked on his first visit to see how badly beaten Mr Fisher was.
"I would have walked passed the bed and never had recognised him," he said.
Mr Jackson agreed with Brian Fisher's comments about criticism of those at the house when trouble arose.
He had himself been summoned by townspeople who perceived trouble.
Usually that meant doing a drive-by to check the situation out but now he would be wary of going out alone to suss out situations, the fire chief said.
He would rather have people who felt there was an emergency situation "put up the siren so the whole brigade could turn out".
The fire chief said brigade members had gathered to speak about the incident in the company of a critical stress expert.
"But we will have further de-briefs, that's for sure," he said.
Hospital authorities said Peter Fisher's condition yesterday afternoon was stable and he was soon expected to be transferred to a general ward.
For more articles from this region, go to Wairarapa Times-Age