Sexual harassment victims tell researchers of being further discriminated against at work after they speak out.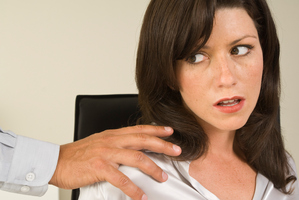 A growing number of workers who complain about sexual harassment say they are being further victimised or even demoted, a survey has found.
It is a problem New Zealand experts say should not exist in modern society.
One in five workers told an Australian study they had been sexually harassed, a slight increase since 2008, a figure comprised of one-third of women and one in 10 men.
But only 20 per cent of those made a formal complaint, up from 16 per cent in 2008.
Of those who did complain, 29 per cent said it had a negative effect on them, for example in further victimisation by their colleagues or demotion, - up from 22 per cent four years ago.
The study was conducted by the Australian Human Rights Commission, and support groups and employment specialists believe the problems it discovered also exist in New Zealand.
Industries in which women were most likely to suffer a form of harassment included health and community services, accommodation, cafes and restaurants, education and retail.
The most common types of sexual harassment included suggestive comments and jokes, inappropriate staring, intrusive questions about physical appearance and sexually explicit emails or text messages.
Auckland Sexual Abuse Help clinical manager Kathryn McPhillips said affected women often did not want to be seen as kicking up a fuss.
"There are a lot of women who don't report assaults which happen in the workplace because they want to keep their jobs. They think they'll be seen as the problem, so they keep quiet to stay safe."
They often didn't receive support from colleagues as they, too, feared for their jobs.
"If the person who has been the harasser or the person who has assaulted someone has power in the group, it's much harder for anyone in the group to then align with the perceived victim," Ms McPhillips said.
"People sometimes think that if they support a victim, they'll be victimised as well and that makes your job very hard. It's that 'keep the peace, don't rock the boat' phenomenon."
A spokesman for the New Zealand Human Rights Commission said there had been 70 complaints of sexual harassment in the 2011/12 year, 75 last year and 90 and 91 the respective previous years. Most cases were within workplaces.
Equal Employment Opportunities Trust commissioner Judy McGregor said: "My experience is that women who face sexual harassment at a workplace may end up leaving the organisation.
"I find it astounding that in 2012 sexual harassment is still a problem in New Zealand organisations given the huge amount of material available relating to prevention and safety.
"I am mindful that the numbers who come to the commission and other bodies are only the tip of the iceberg. Every New Zealander should have zero tolerance to sexual harassment."
Sexual harassment is illegal under the Employment Relations Act and the Human Rights Act. An employee can make a personal grievance claim seeking compensation for humiliation, loss of dignity, and hurt feelings.
In 2010, Moretons Restaurant was ordered to pay Auckland chef Neeta Tailor $10,000 in damages after unwanted touching and vulgar gestures from bar manager Blair Weaver.
Manager inappropriately touches employee
Joan was uncomfortable that her manager at the factory expressed his approval of her hard work by touching and caressing her. She mentioned to her supervisor that she thought it was inappropriate but he did not take the complaint seriously.
Joan grew stressed and began missing work. She felt unable to talk directly to the manager for fear of disciplinary reprisal.
Her complaint to the Human Rights Commission resulted in a mediation with the manager and the chief executive of the organisation. The manager was from a culture where demonstrative touching to acknowledge and show appreciation was the norm. He
acknowledged her discomfort and apologised.
The organisation is working on a new code of conduct, covering respectful working relationships, and it will be introduced with training for supervisors.
Sexual comments lead to resignation
Soon after Grace started work, her co-worker Brent started making sexually explicit comments and gestures toward her. When he touched her inappropriately a few times, Grace told her employer she could no longer work with him and resigned.
She did not tell him what had happened but became more upset after leaving as it had taken her a while to get the job.
Grace contacted the Human Rights Commission about mediation.
The complaint was passed on to Brent who said he had no idea she didn't like what he was doing as she had said nothing. During mediation, Grace and Brent both outlined what they hoped would be the outcome. Brent acknowledged how his behaviour had affected her and paid $3000 in recognition.
Source: Human Rights Commission's Te Rito case studies