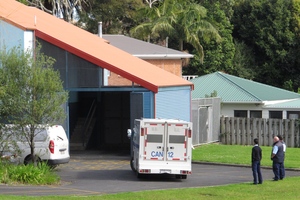 A Kaitaia businessman befriended boys in the community before allegedly sexually offending against them, in the second similar case to hit Northland.
The man, in his 30s, who has name suppression, faces 16 charges of indecent assault against four boys aged under 16.
He has not yet entered a plea and is due to next appear in Kaitaia District court on Thursday.
The man's arrest comes after a three-week police investigation in which up to 40 people were spoken to.
The alleged offending took place in 2007 and early last year, after the businessman formed friendships with young males in the community, said Acting Detective Sergeant Mark Dalzell.
"It's come about through a friendship really. He's been friends with a number of people in the community. Some people that he was acquainted with had children,'' he said.
It was possible there were further victims who had yet to be identified said police, and anyone with information was urged to come forward.
The man's lawyer declined to comment.
It is the second recent sex abuse case in the town following the arrest of James Parker, who was deputy principal of Pamapuria School, who is facing 49 charges of sexual abuse of boys.
The cases were cause for "grave concern'' and parents were right to be feeling apprehensive, said Ending Child Prostitution, Child Pornography and Child Trafficking for Sexual Purposes (ECPAT) Child ALERT director Alan Bell.
They also added to a growing trend for boys to be the victims of abuse, he said.
"It is particularly disturbing to have people in positions of trust betraying the faith that people place in them.
"When child abuse occurs in these situations the confidence of the public and parents in particular is damaged and doubt and suspicion replace trust and respect,'' he said.
The cases were indicative of a wider national problem, said Mr Bell, who called for the Government to take more responsibility for keeping children safe, especially when in the care of those in positions of trust.
"It is time for everybody to become aware of this crime against our most vulnerable and play a part in preventing the abuse of children.''
This month the Government released the White Paper for Vulnerable Children, which includes legislation to keep children safe from abusers who pose a risk to children, he said.
- APNZ