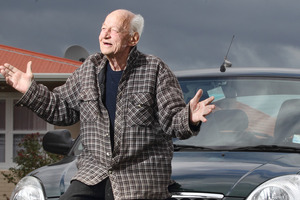 A 15-year-old Rotorua girl who took Gavin Hayes' car for a joy ride has apologised to the 82-year-old, the Rotorua Youth Court has heard.
The girl had earlier admitted unlawfully taking the man's motor vehicle from outside his Glenholme flat on September 27. She was caught by police shortly afterwards when she failed to stop at a drink driving checkpoint and the car was returned to Mr Hayes.
In the Youth Court yesterday, the girl's youth advocate, Max Simpkins, told Judge Jocelyn Munro "useful progress'' had been made at her family group conference last week, which was attended by Mr Hayes. He said she had made a "genuine apology'' to the man.
Judge Munro approved the family group conference plan and remanded the girl on bail until her appearance before the Te Arawa Rangatahi Court on December 18.
Her bail conditions include not going to the flats where Mr Hayes lives and not communicating with him in any way.
Two weeks ago The Daily Post reported how Mr Hayes had been targeted by teenagers, who had been stealing from him for months.
The 15-year-old girl was not involved in the theft of the same car on October 9, when it was crashed and written off. Janaya Ashby, 17, has pleaded guilty to that and will be sentenced on December 10.
For more articles from this region, go to Rotorua Daily Post