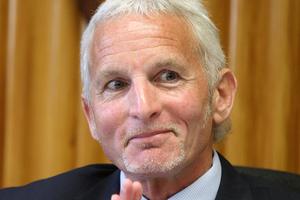 Controversial talkback host Michael Laws will leave RadioLive next year, with Sean Plunket set to take over Laws' nine-to-midday slot.
In a statement, Laws did not reveal what he was going to do after the final show on March 31, but said he would pursue "something new, something exciting and something that I've always wanted to do''.
The former Wanganui Mayor was part of the original RadioLive team which began broadcasting in 2005.
He has never been a stranger to controversy. Last year he told radio listeners he had "no idea'' why someone hadn't "taken a shotgun'' into the Herald on Sunday newspaper "and just cleaned out the entire newsroom''.
Earlier this month, the Broadcasting Standards Authority ordered RadioLive to apologise after Laws asked American Pit Bull Terrier Association spokeswoman Karen Batchelor to "wear a muzzle'', and accused her of making untrue statements, prompting her to complain to Radioworks.
RadioLive general manager Jana Rangooni thanked Laws for all he had done for the station.
"He is a passionate, talented broadcaster and whether you agree or disagree with what he has to say, you can't dispute Michael's legacy as one of the great characters of New Zealand radio.''
Rangooni confirmed that Sean Plunket, the former host of TV3's The Nation current affairs programme and former Radio New Zealand host, would take over the nine-to-midday show in April 2013. Details of the new show will be announced closer to the time.
- APNZ