Man who terrorised couple due for release next year.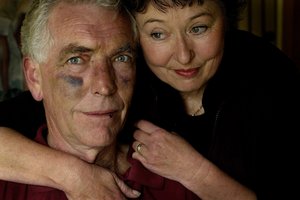 One of the men who brutally attacked Rotorua man Peter Bentley during a terrifying home invasion has been denied parole and is to serve his full nine-year sentence.
Hopihana (Hobson) Epiha has indicated he wants to live in Rotorua when he is released from jail, but Mr Bentley and his wife, Maggie, are fighting to have him placed elsewhere.
"We are very much opposed to him coming here," Mr Bentley said. "He has no reason to be here. I know what he is capable of. It's only a matter of time before he reoffends."
Today marks eight years since the Bentleys were the victims of a vicious home invasion, during which Mr Bentley was robbed at gunpoint and beaten nearly to death at the couple's Maniatutu Rd home.
Epiha was sentenced to nine years' jail after pleading guilty at the start of 2005 to charges of aggravated robbery and wounding with intent to injure Mr Bentley.
Epiha was to serve a minimum non-parole period of six years and in late 2010 was refused parole.
Another parole hearing was held on October 4.
In its written decision, the Parole Board said it had heard from Mr Bentley before the hearing, and the effect of the incident on him had been profound and the effect on Mrs Bentley had been traumatic.
The board said it had been given a clear message that Epiha must not be released to Rotorua or Te Puke and it had a legal obligation to take the victims' views into account.
It was previously reported that in 1990 Epiha shot an Australian policeman in the neck.
In March 1992, Epiha was convicted and sentenced to jail on charges of taking a car, breaking and entering, stealing, possession of a firearm to commit an indictable offence and malicious wounding with intent to prevent apprehension. He was deported to New Zealand in 2000. The board said Epiha had completed a medium-intensity rehabilitation programme.
A subsequent psychological report assessed him as a moderate risk and said he had been accepted by an initiative which helped prisoners reintegrate into society. He was said to have a positive attitude but needed repeated instructions.
The Parole Board said Epiha needed to consider where he would live after his release from prison. Epiha did not yet pose a risk that was less than undue.
The board would see Epiha in July next year to set final release conditions. He is due for release on November 7 next year. APN