One Herne Bay home has had many rich and famous neighbours but it is its exclusivity - it sits in a street of seven multimillion-dollar houses - which has seen its price tag soar from $22,000 to $2.65m in 54 years.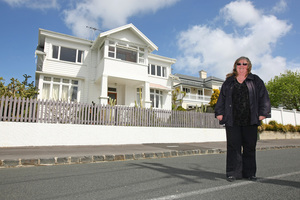 When Kay Lawrie moved into her childhood home in Herne Bay in 1958, her parents borrowed money from family, friends and the bank to pay the $22,000 mortgage.
And after 54 years of memories and countless neighbours moving through, including the Sultan of Brunei, Rachel Hunter and her then-husband Rod Stewart, the property will return $2.65 million to the family after its recent sale.
New figures provided to the Herald by PropertyIQ show the home is now sitting on New Zealand's second-most expensive street.
House-hunters would need to spend about $3.37 million to buy on Stack St, based on the median capital value of all the properties on the street.
It was last year revealed the adjoining Cremorne St was the country's most expensive, and it has topped the list again with a median council valuation of $5.25 million. And with the addition of Stack St in the top five, an exclusive pocket of grandeur has been created in Herne Bay, a suburb already known as New Zealand's most expensive, with an average house value of $1.8 million.
With only seven houses on the street, real estate agents say the exclusivity has driven prices up.
Ms Lawrie's parents, Myra and Tom, bought their four-bedroom, three-bath house, which sits on a 594sq m section at number 16, when she was 2. She's now 55.
"It was my mum's dream, that home. She worked her tail off to get it and then to keep it and dad got dragged along. It was big money then, huge money. She had three mortgages - one with the bank, one with a friend and one with her father."
It had been owned by a doctor, who ran his surgery from the bottom storey. The Lawries kept the ground level as a flat rented to boarders. The home has now been converted into three flats and was bought by a couple living on nearby Masons Ave with three children.
"On an emotional level it's hard to let go because it's home and it's hard because of the fact that we know that unless we win Lotto, we'll never be able to afford to be able to get back into such a good position," Ms Lawrie said.
The Auckland nursing manager has lived at the home on and off her whole life, as have her three children. Daughter Charlotte Cull still lives in one of the flats. Her mother lived on the property until her death at 89 in December 2010.
Four homes on the street were owned by the Sultan of Brunei in the 1990s. Property developer and former owner of food businesses Healtheries and Hansells Gary Lane - worth $220 million on last year's National Business Review Rich List - bought at least two, which he still owns today.
All up, he bought about 11 properties in the area from the Sultan for $35 million in 2005, including the $11 million Waimanu property at 9 Argyle St, which backs on to Stack St and was intended as the Sultan's main residence.
"My mum always considered that she had brokered all those deals because Geoff McRae, who did most of the selling to the Sultan, used to come and have morning tea with mum because she was obviously the longest person on the street," Ms Lawrie said.
"The Sultan's security guard used to come and have morning tea with her too. We've seen some high-flyers come and go ... I'll tell you who did used to stay at Waimanu when they came over was Rod Stewart and Rachel Hunter because we used to be able to wave to them out the window. That's when their kids were little."
She said former rich-lister David Henderson had also lived at two properties on the street.
The square, weatherboard design at number six stands out among the rest of the houses, which have been kept to their original style. It was built in 2010 by architect and boat designer Alan Warwick, who had been part of Kiwi sailing legend Chris Bouzaid's crew when they won the One Ton Cup in 1969.
Past and present residents of Cremorne St include Heart of the City chief executive Alex Swney, Les Mills chief executive Phillip Mills, T&T childrenswear founder Theo Johannink, former clothing label Line 7 owner Ross Munro and Steve Lockwood, the name behind insurance brokerage Crombie Lockwood.
Ray White real estate agent Jan George, who sold the Lawrie home and has been selling in the area for 18 years, said the houses didn't come up for sale very often.
"It's the whole northern slopes exclusivity really. The northern slopes of Herne Bay is such a small area. It's nothing like Remuera, where you've got a vast area and a whole variety of properties..
"The house that we sold had been lovingly cared for by the family for 50-odd years but it's in three flats and quite dated. But it's the location and the views and it's the sort of place somebody will probably update and upgrade."
Ms George said the area appealed mainly to families.
"There's a great community atmosphere in Herne Bay. They have street parties and Christmas parties and the children all play together ... People do look out for their neighbours."
When people did decide to sell, they often moved to another house in the area, Ms George said.
There were three Herne Bay streets in the top 10, with Bella Vista also featuring on the list.
Paritai Drive in Orakei, long thought to be the country's most expensive, was 116 on the list.
The Herald last week revealed that a string of rich-listers and their neighbours were taking advantage of the seller's market and putting their homes up for sale.
In recent years the street has been troubled by architectural eyesores, leaky homes, squatters starting fires, tenancy disputes, neighbours at war, and buses of nosy tourists wanting a glimpse of "millionaires' row".
"It's a very variable street," Ms George said. "There's quite modest houses if you're coming up from Orakei Basin. And it's not until you get up to the top you start getting very expensive ones and then it goes back down again on to Okahu Bay and again it's more modest."
There were four North Shore streets in last year's top five but just one this year - beachfront Audrey Rd, in Takapuna, where the median CV is $3 million.
All but two streets were in Auckland. Streamside Estate in the Queenstown Lakes district had a median value of $2.8 million and Breadalbane Place at Langs Beach in the Whangarei District had a median value of $2.74 million.
PropertyIQ research director Jonno Ingerson said while calculating the median CV, he excluded streets with less than five properties as there had been a few where just one house was located at the end of a lane and it may have skewed the numbers.
Paritai Drive came in at 116 with a median value of $1.64 million. Its low placing was partly because it had 150 properties, at least 100 more than any in the top 10, Mr Ingerson said.
So while there were expensive homes, there were also several cheaper houses. Twenty-four properties on Paritai were worth over $5 million, 30 were worth $4 million or more, 40 were worth $3 million or more, 59 were worth $2 million or more, and 123 were worth more than $1 million.
"Given the length of the street I think it is unlikely that it was ever the most expensive street based on median [or average] value. I suspect if the measure was something like 'Most houses worth over [a certain amount]', then maybe."