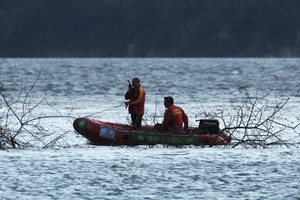 Navy and police divers with sonar equipment have been called in for the search for a Tauranga man missing since the stolen dingy he and four others were in capsized in heavy seas on Tuesday night.
Three men made it ashore but 23-year-old Sean Hogarth has not been found, with a land and sea search continuing around Tauranga's inner harbour this morning.
The Navy and police divers were supporting the operation attempting to locate fishing gear and other items which may assist in identifying the exact location where the boat was swamped at about 8pm, Western Bay of Plenty police Inspector Karl Wright-St Clair said.
Police remained hopeful Mr Hogarth had made landfall in the harbour.
Police said the men took the dinghy to go fishing and appeared to have used their own outboard motor.
Last night, police charged two men with the theft of the boat.
The men, aged 22 and 25, will appear in Tauranga District Court tomorrow.
Police were still trying to find the other man who was in the boat at the time of the capsize, Liam Kane, 22.
He has not been seen since raising the alarm with a member of the public on Tuesday night.
Police said none of the men were experienced on the water and the weather conditions were poor.
The aluminium dinghy was discovered at Matakana Island yesterday morning by members of the Mt Maunganui Surf Club, as they searched the waterways in an inflatable rescue boat.
The dinghy was upside-down near the base of cliffs between Matakana Point and Tahunamanu Point, directly north of Omokoroa Point, where the men set off from.
It appeared to have been pushed towards Matakana Island by the wind and current.