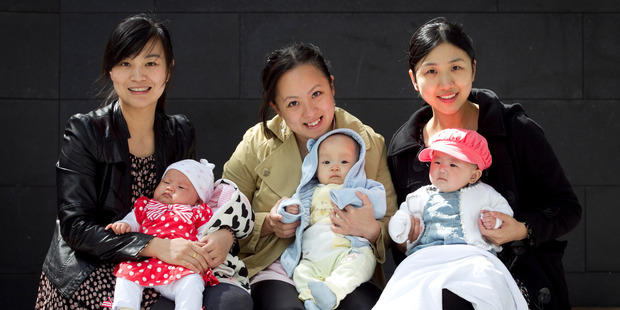 A support organisation for migrant parents in Auckland is experiencing a baby boom because of a surge in the number of dragon babies born to Chinese parents.
Membership at the Chinese Parents Support Service Trust for new Chinese migrant mothers has reached 200 - and one in four mothers had a dragon baby born this year.
Many Chinese consider the Year of the Dragon, which began on January 23, to be the most auspicious year to have a child, and the trust was set up last year in anticipation of a baby boom, said founding member Eva Chen.
Ms Chen, 32, who has her own 5-month-old dragon baby Arthur Wen, says her organisation plays a "very vital role" in helping Chinese migrant parents raise their children here.
"In Asia, these mothers would have the whole village - their mothers, grandmothers, relatives - to help with their baby, but here they have nobody," said Ms Chen, who has two daughters aged 5 and 7.
"The trust can be where these new Chinese mothers here can turn to if they need help."
Ms Chen, originally from Taiwan, and her Chinese husband, who is also born under the dragon sign, had planned a dragon baby since they got married eight years ago.
"There is a story from Taiwan that if a family has three dragons, the family will have extremely good fortune," she said.
Trust chairwoman Kylie Liu, 32, says cultural differences also made raising children here difficult for Chinese mothers.
"After a woman gives birth in China, we believe in having one month of confinement where she doesn't leave the house, and gets special food, drink and herbal remedies to repair her body," said Ms Liu.
"But here women are asked to leave the hospital after a few hours, and can go out with their babies the next day."
Ms Liu said many parents who planned to have Dragon-year babies had "traditional Chinese thinking" and often find themselves caught between the cultures of East and West.
"Our group is very much like the coffee group that Kiwi mothers have, but I guess what we talk about more is how to get the best out of the East and West on how we raise our child."
Associate Professor Elsie Ho, from the University of Auckland School of Population Health, said the desire and enthusiasm of Chinese parents to have Dragon-year babies were "very real" and countries with strong Chinese diaspora populations, including New Zealand, will see a sharp increase in Chinese babies born this year.
She said the impact would be more greatly felt in Auckland, where in a few years students would have "quite a few more Chinese classmates".
Statistics New Zealand analyst Anne Howard said it was too soon to see if there had been a surge of Asian births since the start of the Dragon year, as birth statistics are derived from birth registrations and not the date of birth.